Modula produces Automated Vertical Lift Warehouse Solutions. By choosing a Modula product you can improve your whole logistics process: space and time saving, product security and traceability.
Ergonomic solutions for operators, a wide range of configurations, accuracy, inventory control and intuitive design are just some of the benefits realized by the installation of a Modula Lift system.
High quality vertical automatic lift storage modules have helped to improve various processes in a wide range of industries. Companies in the aluminium, aerospace,  automotive, ceramic, oil and gas, metallurgical, paper, publishing, chemical, pharmaceutical, plastic and many other industries, are all currently benefiting from the introduction of Modula Lift storage technology.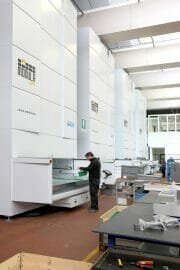 Modula is present in 5 continents with dealers and branches located in over 30 countries. This guarantees a local presence to clients, allowing the company to provide first class support to all markets worldwide.
https://www.youtube.com/user/ModulaWorld/playlists?shelf_id=8&view=50&sort=dd
How to achieve effective warehouse inventory management?
Space, safety, time and easiness of use:
This is how Modula Vertical Storage System has revolutionised Rotorclip warehouse logistics and picking operations, helping companies to increase their productivity.
Rotorclip, an American company that manufactures springs, now store all of their utensils in a single location managed by Modula, ensuring absolute safety and an enormous amount of time saved.
Thanks to our Modula Lift, their efficiency has increased and it was a completely new warehouse!
Another story is the one of Fridle Group that achieved much better warehouse management thanks to the Modula WMS, an inventory management software fully integrated with the ERP system that, together with innovative Vertical Lift Module technology, helped the company to increase the warehouse productivity.
Fridle Group is a distribution center of sealing systems for the hydraulic, pneumatic, mechanical and chemical sector, located in Romano d'Ezzelino (VI). Modula WMS storage system allows real-time warehouse management via a PC interface and better order tracking also providing good supply chain management.
Automotive:  Modula realizes a fully Automated Warehouse Solution for Ford Motor Company  Modula Vertical Lift Modules for a fully automated integrated solution that works directly with anthropomorphic robots, helping the Ford Motor Company to increase warehouse productivity, from the recovery of space to speeding up the picking operations.
After an increase in production, Ford Motor Company installed 3 Modula vertical warehouses to optimize picking procedures and increase process control, resulting in faster order handling. Modula warehouses store camshafts and engine block, working directly with anthropomorphic robots.
The biggest installation with 60 Modula Lifts is for the Automotive Dealer AP Logistics  in The Netherlands
Modula is proud to have improved the AP Logistics warehouse through the installation of 60 innovative lifts, one of the largest installations in the history of our company, the best solution to recover floor space and increase the productivity.
Modula Vertical Automated Storage System for AP Logistics – Spare parts Automotive Distributor – Benelux.
AP-Logistics, operating since 1996 with 10 distribution centres, is a logistics provider, offering its services to subsidiary companies in particular Fource and VHIP. AP Logistics in the Netherlands is part of Sator Holding, the Dutch multinational acquired by the American firm LKQ.
They are market leaders in the automotive services and parts sector as a global distributor and supplier.
They use Modula for 90% of their warehouse management. At least 7,500 rows a day, are carried out by Modula units, which have become the main repository for managing the logistics flow. Thanks to the use of Modula units, AP Logistics can guarantee 90 minute delivery on orders made before 11.00am across the country.