Ambersil has received halal certification on its complete NSF registered 3H, H1 and M1 products. With this certification, AMBERSIL wants to help customers in the Food & Beverages Industry to comply with the high standards of a fast-growing halal market.
Halal certification for NSF 1H, H1 and M1 registered products
AMBERSIL has chosen to certify its NSF 3H, H1 and M1 registered products as they are the products that are allowed to have contact (3H) or incidental contact (H1) with food or are used for food packaging (M1). This means that these products have the highest chance of coming into contact with food products which makes them the most important to be halal certified.; for peace of mind & audit compliance.
AMBERSIL as a partner for the food and beverage industry
Food & Beverages companies are requesting halal-certified maintenance products to be able to cater to the fast-growing halal market. Companies who previously did not serve customers that require halal certification are gaining market share, consolidating supply chains, and facing changing buyer behaviours so now require additional certifications and audit compliance. With halal certification of its most critical products, AMBERSIL want to help its customers to meet the requirements of proven halal compliance.
Halal certification fits perfectly in AMBERSIL's strategy of being a valued partner for the Food & Beverages industry and facilitating their maintenance work. With its FPS range, it offers its F&B clients a comprehensive range of NSF registered maintenance products with the following features:
All H1 aerosols are equipped with the unique Perma-Lock actuator which prevents plastic contamination of the food production line: "Prevention, not detection"!
My AMBERSIL automatic technical data sheet updates
GreenLight: HACCP risk reduction program developped for maintenance chemicals.
R2M: "Risk Reduction Mobile" – chemical consolidation with expert advice and support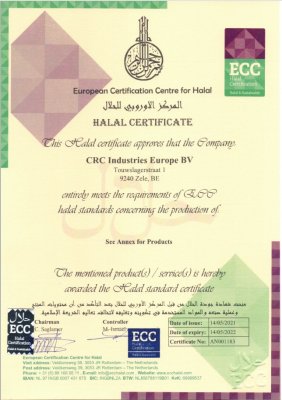 Halal Certificate