Connector manufacturer PEI-Genesis has released an infographic showing the major parts of an industrial connector. The Guide to Connectors, shows a cross section view of a typical mating pair of connectors designed for harsh environments, along with descriptions of the key features and components that make up the connectors. The graphic is available to download from the PEI-Genesis website.
Unlike their USB and HDMI counterparts in homes and offices, connectors used in industry must withstand harsh environments and need to be designed accordingly. Whether they're used in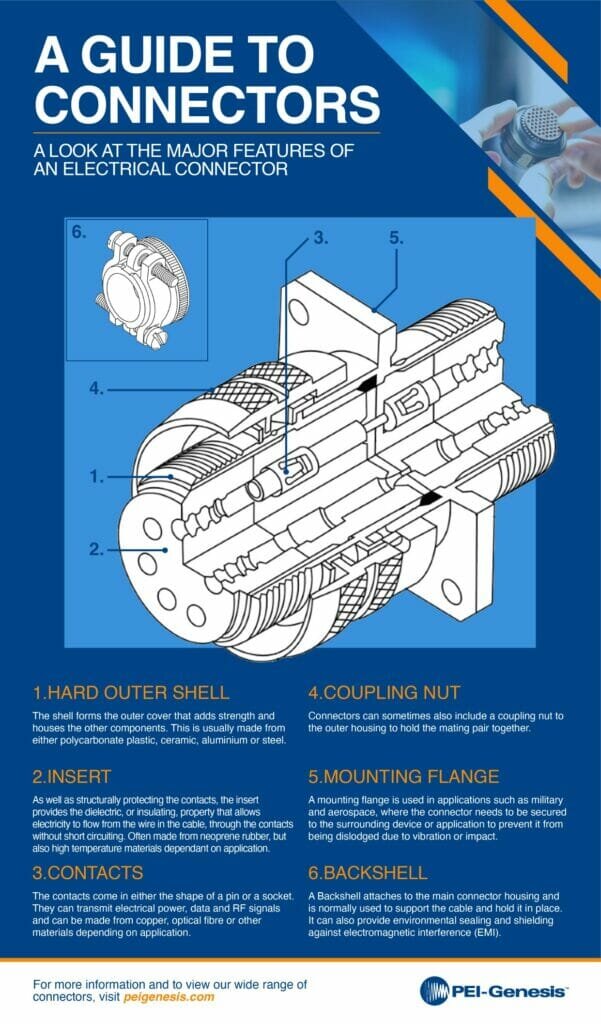 aviation, rail, military, medical or industrial applications, connectors often need to be electrically shielded, environmentally sealed, fluid resistant and shock and vibration proof.
The company's latest infographic titled: A Guide to Connectors: a look at the major features of an electrical connector, shows a cross section view of a typical cylindrical connector with labelled descriptions showing the six major areas common to nearly all connectors.
"The fit and forget nature of connectors means that it's often easy to overlook the sheer amount of engineering that goes into the average connector," explained Jonathan Parry, Senior Vice President and MD Europe for PEI-Genesis. "However, for mission critical areas like aerospace, medical, military and transport applications, users need to know that they can rely on their connectors to perform, no matter what.
"Take the military-specification D38999 high-density circular connector, for example. Its hard outer shell can be made from aluminium or even composite to offer significant weight savings, or from stainless steel or brass to give more environmental resilience. A back shell supports the cable and enhances electromagnetic shielding; O-rings add environmental sealing and a bayonet or tri-start thread coupling mechanism allows the connector to be quickly mated and released in environments where every second counts."
Unlike a typical distributor, PEI-Genesis holds stock in component form, rather than as finished products. This gives customers greater choice, allowing them to configure the connectors to their exact requirements. Combined with high levels of factory automation, the company can offer lead times of just 48 hours with a minimum order quantity of just one product.
For more information on PEI-Genesis' custom engineered connector and cable solutions, visit www.peigenesis.com.