After celebrating 40 years earlier this year with the sale of over 38,500 locking cylinders we decided it was time to introduce a new cylinder to the market.
CyTec Systems have introduced a new range of locking cylinders, for use in the plastics processing industry. These cylinders have been developed using the extensive product knowledge gained over many years by CyTec Zylindertechnik GmbH. The latest generation of CYPULL cylinders, sets new standards for economic production of complex and highly specialized solutions in the mould design and construction.
CP-HR & CP-HB
CYPULL cylinders enable the creation of sophisticated and simplified concepts by combining high forces with compact structural shape. Some other key features and advantages of the CYPULL
cylinders include:
• Rigid structure;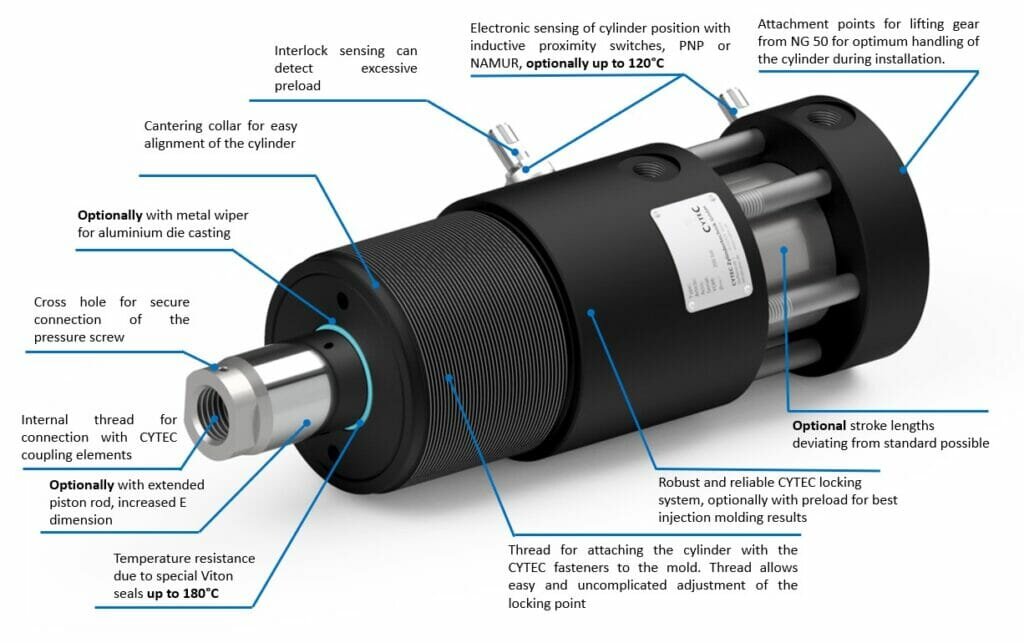 • Integrated locking;
• Maximum holding forces;
• Simple installation;
• Wide range of accessories;
• Holding forces 32 up to 3.300 Kn;
• Round and block cylinders available;
• Available with or without preload;
• Standard strokes 10 up to 100mm; and
• Easy cad download.
The CYPULL cylinders also support cost effective production, as a result of reduced construction, cost, and manufacturing efforts, making them economically advantageous.
Now we are online on CADENAS!
CyTec Systems – 2D CAD Drawings & 3D CAD Models (partcommunity.com)
Speak with us today for further information:
CyTec Systems UK Ltd
[email protected]
0161 6787090
www.cytecsystems-uk.com