OZ Lifting Products LLC will exhibit (Booth 8505) at the Water Environment Federation's Technical Exhibition & Conference (WEFTEC), which takes place September 30 to October 4, 2023 at McCormick Place in Chicago. The exhibition runs on the final three days of the event.
The Winona, Minnesota-based manufacturer returns to the WEFTEC show floor, having exhibited on two prior occasions either side of the pandemic. A 10 ft. by 30 ft. booth will be its largest ever—up from 10 ft. by 20 ft.—where its full family of davit cranes, commonly used by the global water sector, will be the focal point for many visitors.
However, the decision to expand floorspace was largely down to the volume of equipment it now supplies to this industry, with water quality professionals and thought leaders noting the favorable properties of the company's range of stainless steel, corrosion resistant hoists, clamps, trolleys, and winches, which can be utilized in a variety of material handling applications.
Richard Miller, sales manager at OZ Lifting, said: "The [10 ft. by 20 ft.] booth size was getting a little tight with the amount of product we bring to the shows, so we thought a 10 ft. by 30 ft. would be a better option for us as we aim to showcase a catalog of products that offers unique features, benefits, and innovations that combine to create a safe working environment for water professionals."
OZ Lifting sells its products via a distribution network that positions stock close to the point of use, but exhibitions like WEFTEC present an opportunity not only to interact with new and potential dealers, but also to meet purchasers, end users, and engineers—all of whom attend the event to learn practical skills, techniques, and best practices.
Miller added: "There are a number of opportunities to use davits in a variety of applications and locations. Our patented products provide users with unique features that either make the davit more portable or make using the crane easier and safer. Lifting submersible pumps is a very common application, but given the portability of our davit crane systems, they can be used at other locations of the plant or at a different site altogether."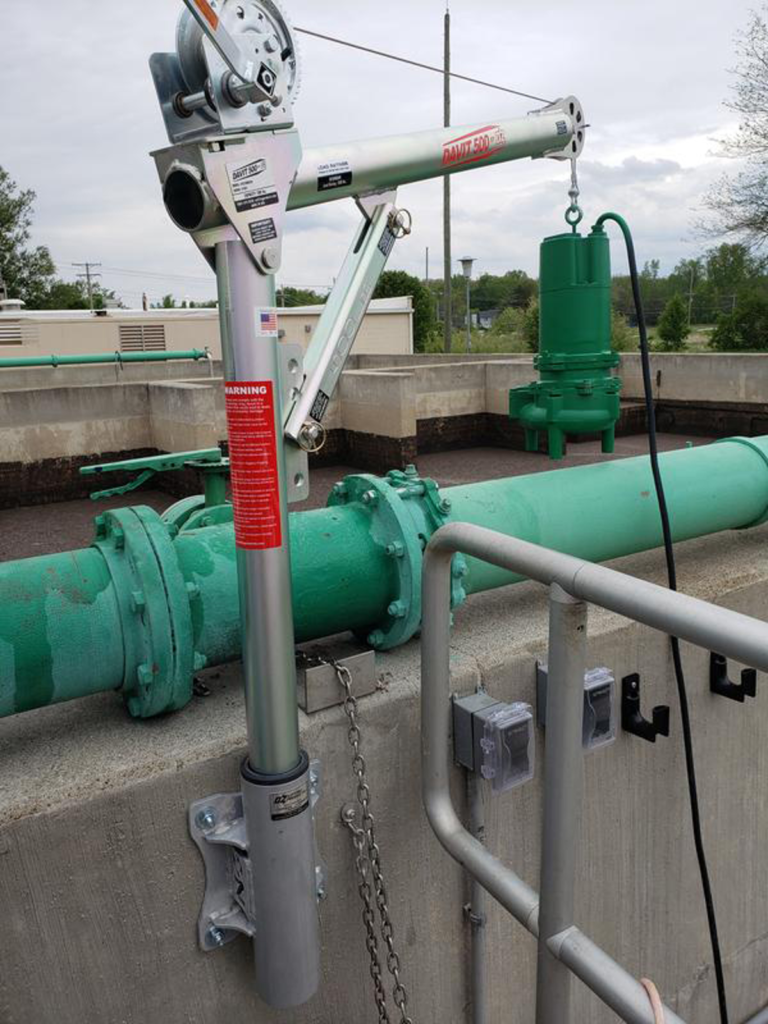 Water environment davit cranes
Already a favorite among water professionals, the Tele-Pro davit crane, available in 500 lbs., 1,200 lbs., and 2,500 lbs. capacities, allows users to leverage the benefits of other lifting technologies in its range, while telescoping the boom in and out under load. The Alumi-Lite series of ultra-portable davit cranes, available in 500 lbs. and 1,000 lbs. capacities, is an aluminum series targeted specifically at applications where portability is beneficial, including those in wastewater and water work. The CompOZite and CompOZite Elite carbon fiber models will also be on show, as will the recently launched Longreach davits.
Another feature of the WEFTEC booth will be the new wheelbase, which can be used with all davit cranes up to 1,200 lbs. capacity. Offering durable steel constriction with powder-coat finish, oversized casters make rolling the base and moving the load easy. As visitors will discover, an optional floor anchoring system allows the davit to rotate while under load.
Importantly, education is at the heart of WEFTEC, delivering everything industry stakeholders need to know about water quality; with nearly 150 interactive and engaging educational sessions and 17 hands-on workshops, attendees can immerse themselves in content, before getting hands-on product experiences at the co-located exhibition, which opens on day three.
OZ Lifting will be represented at WEFTEC by Steve Napieralski, president; Richard Miller, sales manager; Parker Hale, inside sales specialist; and Ashley Blum, marketing manager. Visit Booth 8505.