Five-channel Luxtron® FluorOptic® Thermometry (FOT) platform with industry-leading accuracy for extremely low and high temperature sensing
Advanced Energy Industries, Inc. (Nasdaq: AEIS) – a global leader in highly engineered, precision power conversion, measurement and control solutions –has extended its Luxtron® FluorOptic® Thermometry (FOT) family with a highly integrated converter platform that provides high-accuracy sensing from extremely low to extremely high temperatures.
Ideal for plasma-enhanced semiconductor deposition and etch fabrication processes, the new Luxtron M-1100 operates from -200°C, the start of the cryogenic range, to 'hot chuck' temperatures of 450°C with industry-leading accuracy of +/- 0.1°C and stability of +/- 0.05 °C. The integration of five channels supports the monitoring of multiple probes from a single converter, while flexible communication outputs simplify digital monitoring, updates and system integration.
"Accurate monitoring across extended temperature ranges is critical as semiconductor manufacturers look to meet the complex etch and deposition requirements of next-generation fabrication processes," said Dhaval Dhayatkar, vice president and general manager of critical sensing and control products at Advanced Energy. "The Luxtron M-1100 further extends our leadership in high-accuracy, phosphor-based fiber-optic thermometry and meets customer demands to minimize measurement overheads and provide integration into monitoring and control systems."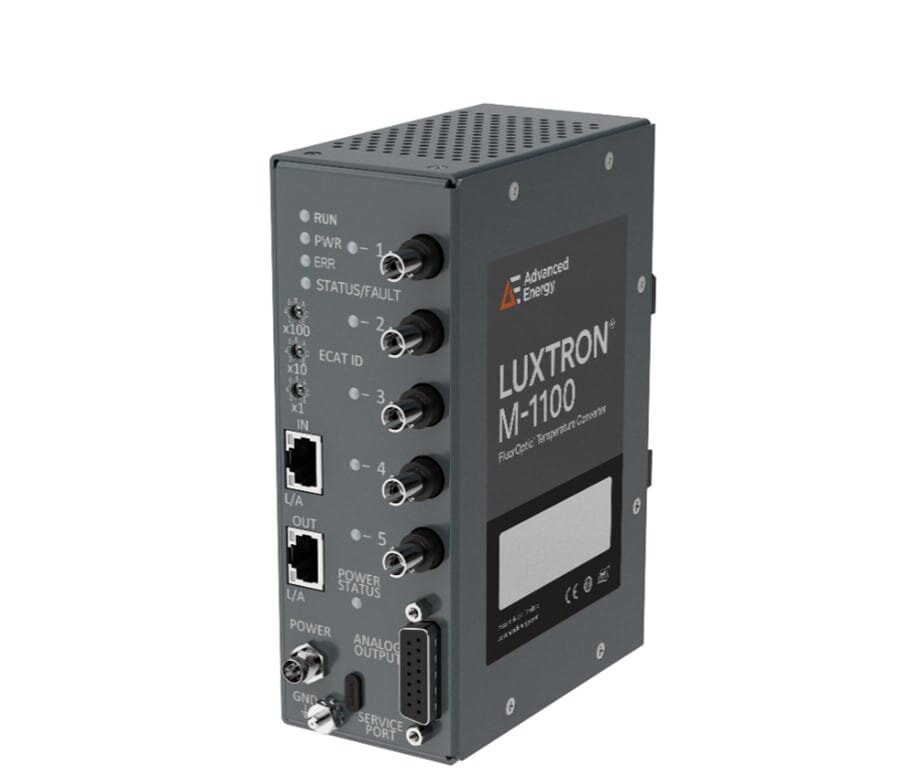 Leveraging fiber optic probes with phosphor sensor technology, Luxtron FOT sensing systems combine high-performance converters with an advanced light source, a photodetector proprietary software algorithm and low-noise amplification circuitry. The Luxtron M-1100 is the first model to offer both analog and EtherCAT communication interfaces.
The new converter simplifies implementation by enabling wall-mounting on the side of the system being monitored. User experience is further enhanced with support from Advanced Energy's global engineering teams, which collaborate with OEMs to develop custom probes for leading edge applications.
For detailed product information and technical specifications, visit our website.