SICK UK has added the versatile Lector630 to its family of image-based code readers to offer a compact, high-resolution reader with wide-ranging adaptability for high-speed, high volume production duties.
For comprehensive code reading duties in the pharmaceutical and cosmetics industry, the compact SICK Lector 630 offers up to 2 megapixel resolution reading with adjustable integrated lighting and a choice of exchangeable optics, so engineers can tailor the best performance to each application.
The SICK Lector 630 code readers are ideal for tracking, trace, sorting and identification duties in  production, shipping, warehousing and distribution, says Mark Harris SICK UK's Systems & Auto Ident Manager: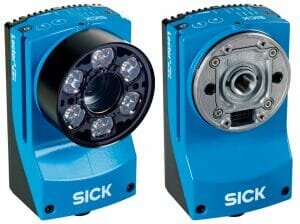 "Why look at installing several different readers at many points across a site when one reader, with a range of different optics variations, can excel at many tasks?  You can standardise the code reading operation at a stroke.
"It doesn't matter if the code is small and has to be read at a distance over a wide conveyor, or is complex and close up in the middle of a clutter of print or parts, the resolution, lighting and focus capability of the Lector 630 can be adapted to match. "
With a compact IP67 housing, the Lector 630 has an intuitive user interface, quick set-up button and MicroSD card all to simplify commissioning, operation and maintenance.  When replacement is necessary, the MicroSD card enables cloning and rapid substitution with minimal line downtime.
The Lector 630's high-resolution reader ensures maximum performance, even in difficult conditions. Commissioning is easy due to the integrated lighting and aiming laser. The beeper signal and coloured feedback spot on the read object ensure direct result supervision is rapid and simple under operating conditions.
The unique optics of the Lector 630 provide the engineer with a wide lens choice, from small S-mount lenses to high quality C-mount lenses.  To set up the optimum viewing angle, the Lector 630 offers an innovative range of ring lights, which are easy to mount without cabling and come equipped with a convenient filter holder to facilitate swapping the filters. The Lector 630's optics can be covered by hoods to meet the IP 67 rating.
The SICK 4Dpro common communications platform means the Lector 630's is easily integrated into surrounding networks and is compatible with other SICK auto-ident devices.  Images and reading data are viewed in the Sensor Integration Unit panel which allows oversight and analysis of trends to make daily operation more efficient.
For more information on the SICK Lector 630 series of code readers, please contact Andrea Hornby on 01727 831121 or email [email protected] or visit www.sick.com/gb/en/