Food safety specialist Fortress Technology is taking to the road with its new demo van. Bringing a selection of its metal detection and checkweighing technology, along with industry inspection expertise, direct to UK food factories.
For food processors pressed for time, yet eager to explore future machinery, data packages and training tools to support their food safety strategy, the Fortress demo van is equipped to help. From getting to grips with the equipment first-hand, to exclusive live demos and detailed metal detection and checkweighing test reports, employees can visit the van without disrupting production. Saving food factory managers time and money.
Arranged by appointment only, Fortress colleagues simply park the van close by – space allowing in the company car park – and open the doors.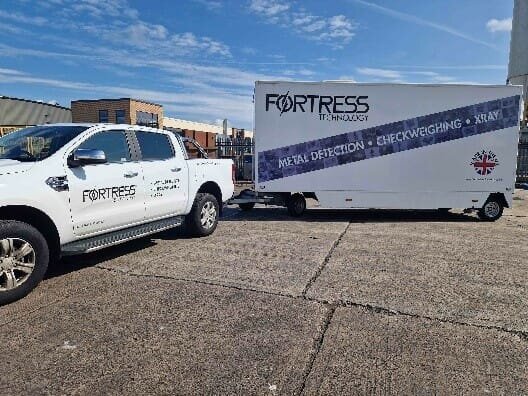 "Listening to our customers, the real struggle for many is dedicating the time to view inspection equipment. Visiting trade shows or our Banbury production facility and showroom can add more stress to people's already busy schedules. It also limits the number of people, departments and decision makers who might want to input into investment decisions. Bringing the technology to manufacturing sites solves this," explains Phil Brown, managing director at Fortress Technology Europe.
Demonstrating the technology on site also reduces the collective carbon footprint, highlights area sales manager Jaison Anand, one of the masterminds behind this initiative. "Most exhibition venues are clustered a good couple of hours away from manufacturing sites. Attendance, including overnight stays, adds to this cost. The beauty of the Fortress demo van is it can fit around everyone's needs, production schedules and project timelines," adds Jaison.
Staff enquires can all be addressed in a single visit. One trip also enables the engineering, technical, quality, finance, procurement and management departments – some of whom rarely influence investment decisions – to view the equipment and ask practical questions. Without information overload and exhibitor distractions.
Currently equipped with a retail-spec Vector conveyor metal detector and Raptor checkweigher, a Combi system is being added soon. Already, Jaison and the team have visited several food processors to deliver quick presentations on retailer codes of practice, hygiene, audit, integration guidance, and more.
The feedback following its first trip to a customer facility was extremely positive. Jaison reflects: "It was so much more productive and useful having Fortress travel to the customers site. In two hours more than four team members from three different departments popped out to see the equipment. They really valued the experience and getting the chance to view the machinery first hand. The uptake for bookings confirms this is a great idea which supports our customers pressures and pain points."
Part of the new service package launching at PPMA 2023, booking slots are now open. Email [email protected] to set a mutually convenient time for a demo.