Advanced Atomization Technologies, a joint GE Aviation—Parker Hannifin venture, produces fuel nozzles for the GE Aviation jet engines powering a large portion of the world's commercial aircraft. Their maintenance program was once bombarded by work orders—often more than 500 a month. Then their facility engineer discovered eMaint CMMS, maintenance software designed to simplify work order management.
Now maintenance is planned, overtime is rare, and uptime is breaking records. Advanced Atomization is even using eMaint to move into predictive maintenance with Fluke vibration sensors and the new eMaint X5.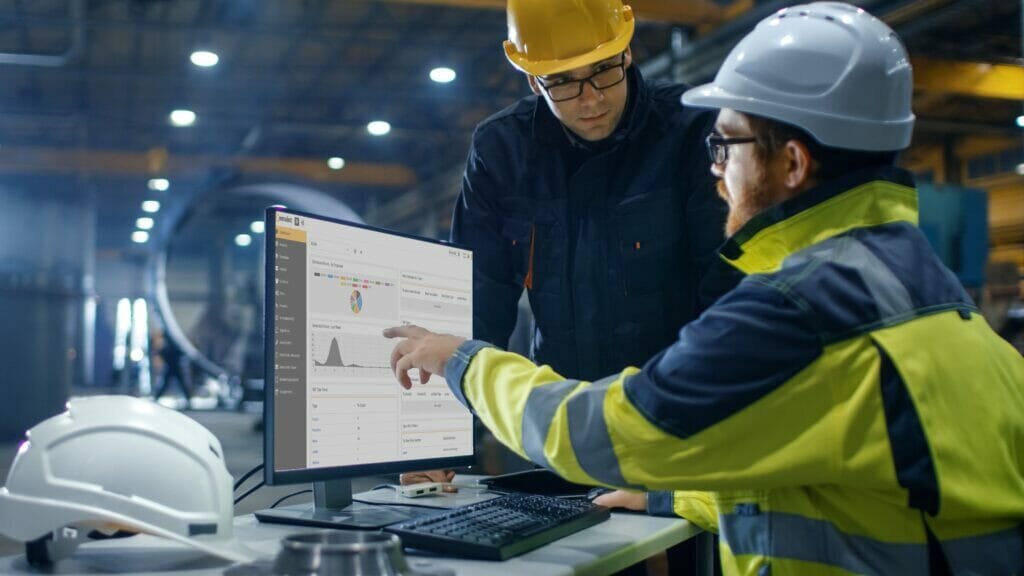 BACKGROUND
Advanced Atomization makes cutting edge fuel nozzles installed on nearly every engine from GE Aviation—some of the most powerful and efficient gas turbine engines on the planet. Aircraft ranging from the Boeing 737 Max and 747-8 to the Airbus A320neo and the Boeing 787 rely on GE Aviation engines
James Kalinski is the facility engineer at Advanced Atomization. For years, his team battled an average of 500 work orders a month.
So, in 2014, Kalinski set out to change that. He searched for a software to minimize reactive work orders, eliminate overtime, and maximize asset uptime.
CHALLENGES
Advanced Atomization's maintenance team couldn't keep up with the barrage of work orders. Overtime averaged 12 to 14 hours per week per technician, yet overall uptime remained at an average of 80%.
"We did paper work orders before," Kalinski says. "We had no tracking. And we had about 90 to 100 work orders open on any given day."
Their team had also gone through several different CMMS platforms over the years, but he couldn't find one that had everything Advanced Atomization needed.
"We didn't like our original software because it didn't do a great job with tracking or history," he says. "I started trying several different platforms."
And then Kalinski discovered eMaint: a software that simplified work orders, preventive maintenance planning, and much more. Eventually, he also hoped to move their program into predictive maintenance—seeing machine failures coming and responding with proactive work.
"eMaint really caught my eye because it had all the tools we wanted to utilize going forward," Kalinski says.
IMPLEMENTATION
Confident eMaint would streamline his team's avalanche of work orders, Kalinski moved forward with the CMMS.
eMaint worked with Advanced Atomization to craft a software package that would be ideal for everything from work orders to condition monitoring. Training ensured the team was confident in managing maintenance with the software.
Nine years later, eMaint is still there for him. "Whenever I need something, eMaint makes it happen," Kalinski says.
RESULTS
Kalinski has now revolutionized maintenance and reliability at Advanced Atomization. Their flood of work orders has slowed to a trickle.
"Since we chose eMaint, I've been able to reduce our work orders from about 500 a month to around 50—and now we do a lot of PMs," Kalinski says.
That change happened because Kalinski can track and plan maintenance strategically, which has saved an average of 600 hours per year on overtime costs.
"We were firefighters before," he says, recalling that most of the team's time and energy was devoted to responding to crises. "Now, instead of working on average 12 to 14 hours of overtime a week, we don't work any overtime at all."
Today, thanks to simplified PM planning with eMaint, Advanced Atomization performs maintenance on the right assets, at the right time, with a smaller workforce and less labor.
And the best part: eMaint helps the bottom line for their business.
"We've increased our uptime from an average of 80% to 95, 96, even 97% for some production lines," Kalinski says.
A boost in production efficiency means more fuel nozzles, more jet engines equipped with the industry's best, and more profit for Advanced Atomization.
What's next for Advanced Atomization? Kalinski says they're just getting started: condition monitoring with Fluke vibration sensors, SCADA system integration, and predicting asset failures are on the horizon.
"Now we're getting into predictive maintenance," he says. "We're catching failures before they happen for assets like motors and pumps."
Kalinski is upgrading to eMaint X5 in his facility, which can serve as a master account to several sites thanks to its multi-site management capabilities. He will be able to configure the interface, permissions, languages, and settings for each site. Kalinski also plans to give new sites access to his eMaint historical data right away—giving them a wealth of valuable insights into how to manage similar assets and battle similar challenges.
Once his facility is ready, Kalinski will lead eMaint X5 implementation in more worksites and share his secrets to success throughout the company—guiding Advanced Atomization into the future of maintenance and continuing a tradition of innovating with eMaint.
BENEFITS
Reactive work orders down by 90%—from 500 to 50 a month
Overtime fell from an average of 600 to 0 hours annually due to minimized work orders and increased reliability
Boosted uptime by more than 15% on average, thanks to streamlined PM planning, reduced workload, and historical insights offered by eMaint
"I am a firm believer in eMaint and Fluke Reliability. From your software to your vibration sensors, you guys are in the business of protecting assets."
– James Kalinski, Facility Engineer at Advanced Atomization