MasterMover, the global leader in electric tug solutions, has launched its new SM200+ SS model, designed to deliver the safe and controlled movement of heavy, wheeled loads in cleanroom and food-safe environments.
The SM200+ SS electric tug offers a load capacity of up to 2,000kg and features a hydraulic coupling system for secure connection to the load being moved. Made with 316-grade stainless steel and featuring an IP44 rating as standard, the SM200+ is ideally suited to moving equipment, products and materials in controlled environments.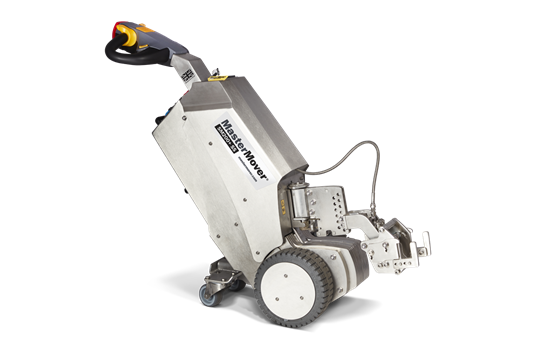 The MasterMover Stainless Steel range offers biopharmaceutical and food manufacturers unrivalled choice when selecting effective material handling equipment, with machine models available up to a maximum load capacity of 30,000kg. Electric tugs are widely used to move equipment such as chromatography columns, totes and mixers, under the control of a single operator, with the ability to start, stop and manoeuvre with ease.
The SM200+ SS is designed with a safety-first approach, featuring an anti-crush button, adjustable speed settings, a warning horn and intuitive operator controls. A 180-degree steering angle and compact design make the SM200+SS the ideal solution for executing precise movements in confined spaces, with the hydraulic coupling system offering maximum load security.
"Our commitment to innovation is further solidified by the launch of the SM200+ SS," said James Jones, Partner and Director at MasterMover. "Our Stainless Steel range continues to grow and evolve, providing our global customers with reliable solutions for promoting safety and efficiency in highly sensitive environments."
"The SM200+ SS enables a single operator to effortlessly move up to 2,000kg, eliminating the need for manual handling. A compact design and stainless steel construction make it ideally suited to working in sensitive environments such as pharmaceutical manufacturing and food processing. Expanding our Stainless Steel range with the SM200+ SS enables our customers to benefit from another best-in-class material handling solution."
The MasterMover range of stainless steel electric tugs and tows is used around the world by manufacturers in the biopharmaceutical and food industries. They deliver the safe, controlled and easy movement of wheeled loads, eliminating manual handling and driving operational efficiency.
About MasterMover
MasterMover is a world-leading manufacturer of electric tug and tow solutions, designed to improve safety and operational efficiency when moving heavy, large or unconventional loads. MasterMover focuses on innovation, research and development to provide the widest range of electric tug products on the market.
Specialist solutions include pedestrian-operated, remotely controlled and fully Automated Guided Vehicle (AGV) options. In addition, MultiLink technology allows a single remote operator to simultaneously control multiple electric tugs through synchronised movement.
MasterMover operates globally through direct relationships and a network of sales and service partners. The company works with an enviable range of world-leading names across industrial manufacturing, retail and logistics. With an expert in-house engineering team, MasterMover has a proven track record of delivering bespoke projects for diverse applications around the world.