One of the West Midlands' leading manufacturers enjoyed a double triumph last night at the national Engineering & Manufacturing Awards
PP Control & Automation's Tony Hague took the main honour of the evening when he beat off the challenge of some of the UK's most influential bosses to win the Industry Leader of the Year title.
The graduate engineer is a passionate advocate for UK manufacturing and impressed judges with the way he has guided the business from £3m sales and 27 staff when he took over in 2003 to a world class operation that is on course for £30m and now employs over 230 people.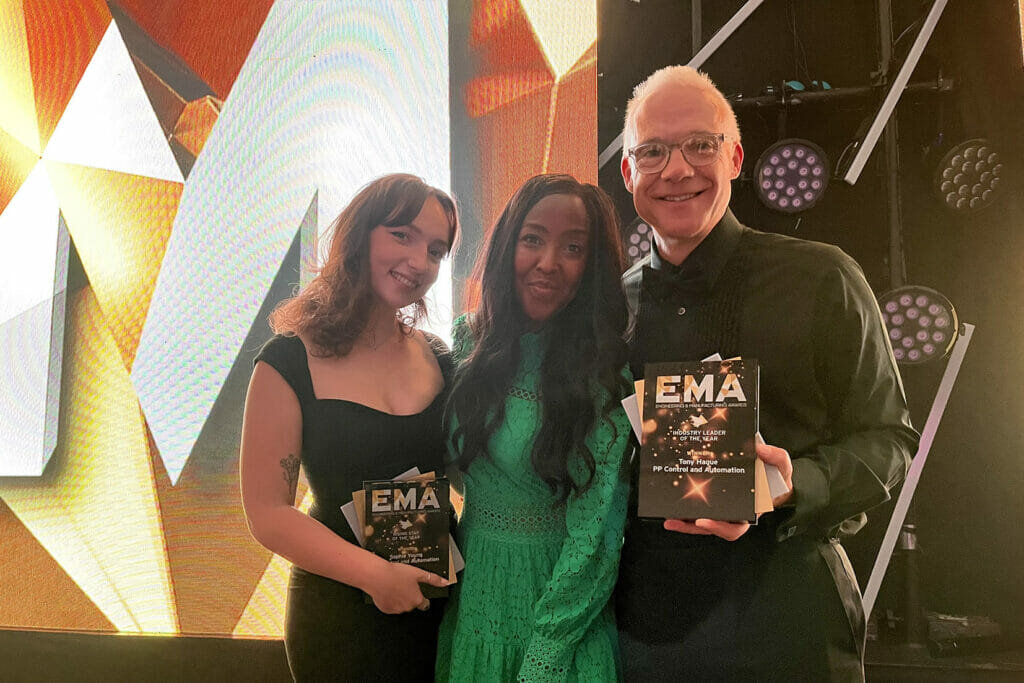 He was joined on stage by one of PP C&A's emerging engineers with 20-year-old Sophie Young recognised as the 'Rising Star' in front of over 300 people at The Marriott Hotel in London.
"We are absolutely blown away to come to a national manufacturing awards ceremony and win two of the biggest awards," explained Tony Hague, CEO of PP Control & Automation.
"The talent in the room – from SMEs through to some of the world's largest engineering names – was immense and I'm delighted that between Sophie and I we have helped put the West Midlands on the UK industrial map.
"Leading a business is never easy, especially during the last three years when we have had to come to terms with a global pandemic and then the impact of rising inflation, supply chain disruption and energy prices."
He continued: "You need a really good management team behind you, and you need excellent staff and I'm pleased to say we have both at PP C&A."
Sophie Young joined PP Control & Automation in September 2021 and in the following two years she has progressed from assembling electrical equipment within the busy manufacturing area to creating engineering information to speed up production of electrical assemblies and control panels.
Within the first five months of her apprenticeship, she was given the opportunity to take a project for a client involved in surface mount technology printing machines through from quotation to completion.
This included supporting the New Product Introduction process by eliminating faults and developing a product ready for production, carrying out inspection reports on first builds and creating a dedicated production cell.
Sophie even volunteered to build the first iteration of the assembly to prove out her documentation, cutting out 1-hour of build time by identifying a more efficient method.
The assembly now takes 2.5hrs to produce, which has allowed 100 units to be manufactured last year, with 400 units scheduled for build in 2023.
Sophie went on to add: "To be recognised as the Rising Star in the UK is something I never expected, and it tops off what has been an exciting year.
"We have such a great team at PP C&A, who are mentoring me and teaching me all there is to know about engineering and manufacturing. There's no way I could have progressed so quickly in my career without them."
For further information, please visit www.ppcand.com or follow @ppcanda on twitter.
Caption for EMA Awards (L): (l-r) Sophie Young (PP C&A), Angellica Bell and Tony Hague (PP C&A)