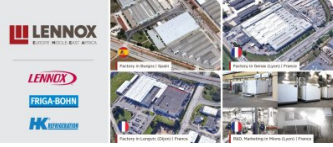 Lyon, France September 21st, 2023, Lennox International is today announcing details of a definitive agreement to sell its Lennox EMEA commercial HVAC and refrigeration businesses. The new buyer, Syntagma Capital, will acquire the assets of Lennox EMEA, marking a significant and highly positive milestone in the strategic direction of this progressive enterprise. Lennox International decided to divest the European business to continue its focus on the North American strategy. Established in 2009 and based in Brussels, Syntagma Capital excels in boosting company performance and growth through hands-on operational expertise. With €1.1 billion invested in 40+ companies to date, Syntagma Capital has generated €4 billion in revenue and employed over 11,000 people worldwide.
The landmark deal covers the manufacturing and distribution of the full HVAC products portfolio refrigeration portfolio commercialized in Europe, the Middle East, and Africa. Lennox EMEA and Syntagma Capital will collaborate closely to ensure a seamless transition for customers, suppliers, and employees.
"This strategic move will strengthen and consolidate Lennox EMEA's position in the European HVACR market, opening the door to new business opportunities," says Ricardo Freitas, General Manager of LENNOX EMEA. "We are committed to enhancing the experience of our customers through the provision of premium service levels, new commercial initiatives, strategic investments, product expansion, and operational improvements. With Syntagma Capital's investment, we will amplify our growth and innovation to meet the market's future needs. It marks the start of an exciting new chapter for Lennox EMEA."
Establishing its European division in 1960 in the UK, Lennox EMEA has played a vital role in the European HVAC and refrigeration market. The company is renowned for providing sector leadership spearheading important new innovations, and adopting a prominent stance on environmental and sustainability initiatives.
With a commercial presence in 46 countries, Lennox EMEA currently employs approximately 980 people and has three production facilities in France and Spain.
The transaction is expected to be completed in the fourth quarter of 2023, unlocking significant opportunities for innovation, extended market reach, and higher revenues.
LENNOX EMEA (Europe Middle-East Africa), part of Lennox International Incorporated (LII) is a leading
provider of climate control solutions for heating, air conditioning and refrigeration markets and has the
commitment to assisting its customers in their projects, to provide optimized and sustainable solutions.
LENNOX EMEA ensures that each employee flourishes within the group, so as to contribute to the success
of our customers' projects. Every day we develop our reputation by providing maximum comfort and
efficiency through our air conditioning and refrigeration solutions.
Our reputation as a leading market player is based on simple principles that guide our action: capacity to
listen to our customers, knowledges of their fields of applications and understanding of their needs.
The devotion and expertise of all employees of LENNOX EMEA are key assets in building the trust shown to
us by our customers every day and in ensuring the continuity of our relations.
More than ever, LENNOX EMEA is committed to meeting the challenges of tomorrow, by your side.