Maintenance engineers have relied on the quality of Fluke tools for decades and can now get major discounts and free tool cases in a special promotion to mark 75 years of the company's service to the industry.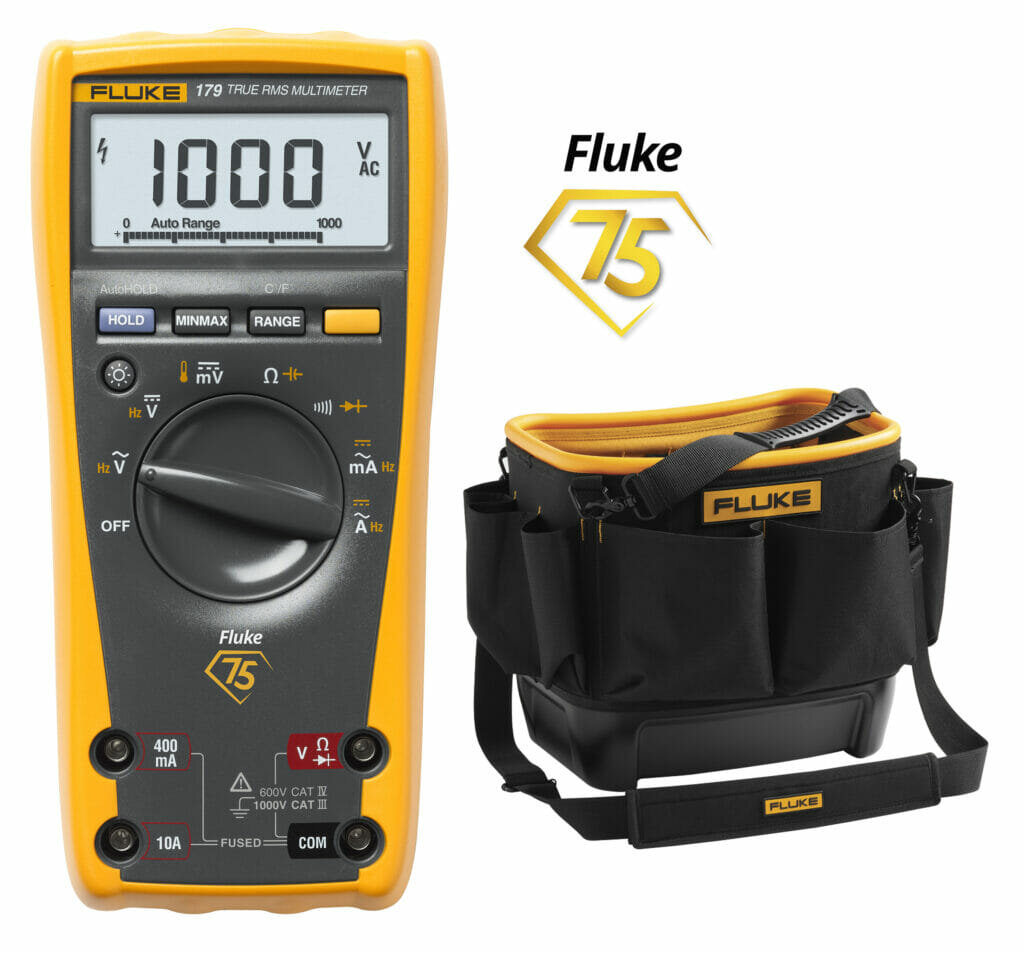 Over 75 years, Fluke has built a reputation for a range of rugged, quality test tools that technicians and engineers have come to rely on. To celebrate the significant milestone of its 75th anniversary, Fluke is offering free tool cases and discounts with purchases of some of its most popular multimeters, together with up to 25% savings on a wide range of measurement tools that engineers use every day.
Running from 1 October to 31 December 2023, Fluke is offering free tool cases with qualified purchases of the Fluke 179, 87-V and 115 Digital Multimeters. The Fluke 179 and 87-5 are special editions complete with the Fluke 75th anniversary logo and all three multimeters will also be available at a discount of 10% off the listed price.
Customers can claim their free gift online at: www.fluke.co.uk/toolbag/
The Fluke 179 TRMS Multimeter is a full-featured, precision digital multimeter for troubleshooting and repair of electrical and electronic systems. The Fluke 87-V TRMS Multimeter provides the resolution and accuracy to efficiently troubleshoot motor drives, plant automation, power distribution and many other applications. The Fluke 115 Digital Multimeter is a compact, general purpose troubleshooting tool, offering simple, one-handed operation for field service technicians.
The 75th anniversary offer also includes innovative new products which are set to carry Fluke's longstanding reputation for research and development into the next 75 years with products such as the FEV300 EV Charging Station Test Adapter Kit. The Fluke FEV300designed for testing the function and safety of electric vehicle charging stations, without the need for an electric vehicle. It allows testing to be carried out quickly and easily and can also be combined with Fluke's other test instruments such as the 1664 FC installation tester.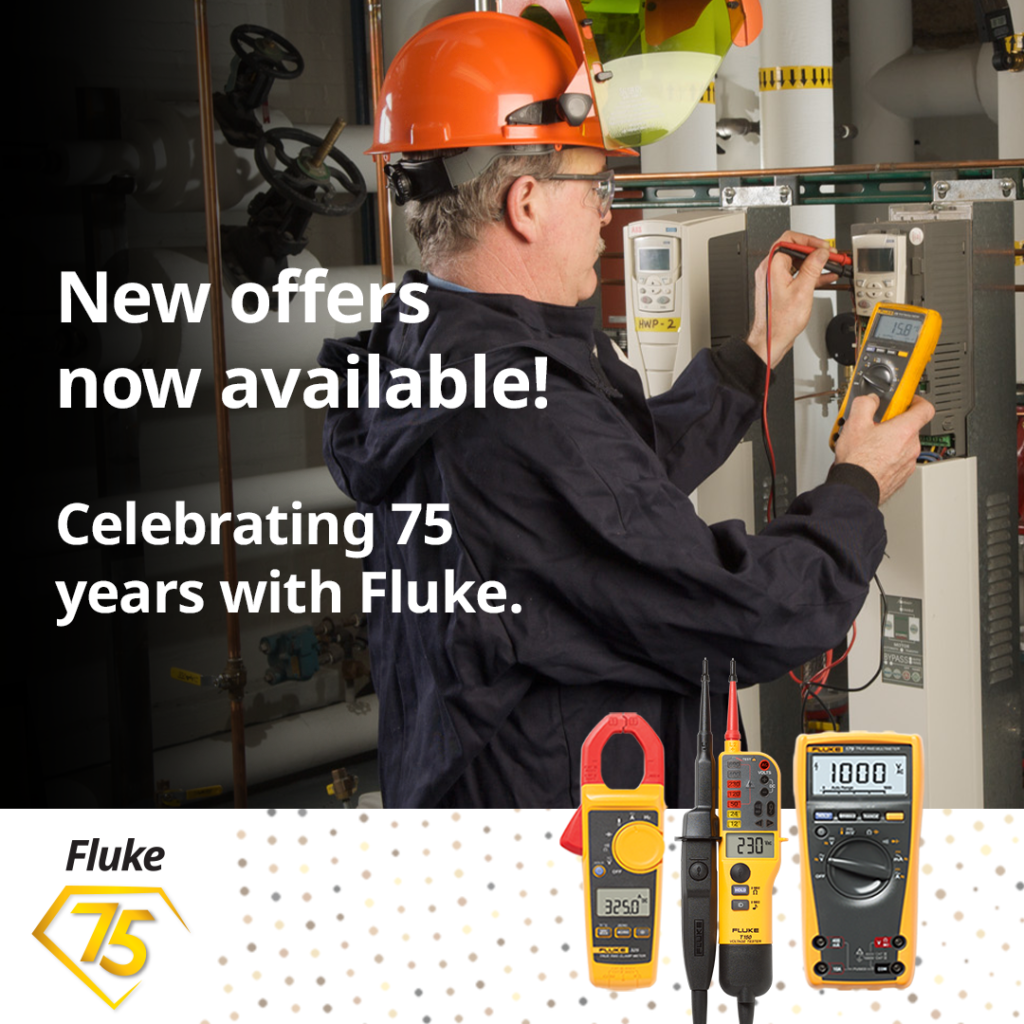 Other discounted products include Multifunction Installation Testers, Multifunction Installation Testers with TruTest kits, 116 and 117 Digital Multimeters, the 325-clamp meter, the 62 MAX infrared laser thermometer and the T150 and T6-600 electrical testers.
Says Nigel Hedges: "Over 75 years, technicians and engineers in the electrical industry have come to rely on the solid build quality, accuracy and reliability of Fluke test solutions. Many customers remain loyal to Fluke because our products provide the sophisticated features they need, combined with the usability that makes testing tasks quicker and easier to perform.
"With squeezed budgets and a growing shortage of skilled labour, companies are having to choose their measurement solutions carefully – many have concluded that Fluke instruments provide the value for money, effectiveness and ease of use they are looking for, and we look forward to providing our customers with high quality tools for many more years to come."
Although Fluke may be celebrating 75 years of history and heritage, they are by no means stepping back the innovation that has seen them achieve so much success to date. Exciting new product areas such as solar energy, electric vehicle charging solutions and acoustic imaging for leak detection all continue to drive Fluke forwards their centenary celebrations.
Customers can find out more about this limited offer at www.fluke.co.uk/toolbag
About Fluke: Fluke's mission is to be the world leader in compact, professional electronic test tools. The company's products are used by technicians and engineers in service, installation, maintenance, manufacturing test, and quality functions in a variety of industries throughout the world. Founded in 1948, Fluke has offices in 13 European countries and distributes its products to over 100 countries around the globe. The company's European revenues contribute approximately 40 per cent of worldwide sales. Fluke's headquarters are located in Everett, Washington State and the company employs over 2,500 people internationally. Its European sales and service headquarters are located in Eindhoven, The Netherlands.
FLUKE is a registered trademark of Fluke Corporation. For more information, visit the Fluke website at http://www.fluke.com.