Brings high levels of density and performance to space applications,
saving system cost and engineering efforts through low power consumption and immunity to configuration upsets
CHANDLER, Ariz., October 3, 2023 – Products that have Qualified Manufacturers List (QML) designations are often the most trusted and readily accepted in space program designs. As designated by the Defense Logistics Agency (DLA), the RT PolarFire FPGA from Microchip Technology (Nasdaq: MCHP) is now QML Class Q qualified. This certification is considered the gold standard in entry-level qualification, enabling designers to begin integrating the RT PolarFire FPGA into their space flight systems more easily. Because QML qualifications are standardized based on specific performance and quality requirements governed by the DLA, customers can streamline their design process by using QML-qualified products.
Low-power and reprogrammable RT PolarFire FPGAs offer expanded logic density and high performance, providing significant improvements in signal processing throughput. Unlike SRAM-based FPGA alternatives, these devices do not exhibit any configuration Single-Event Upsets (SEUs) in radiation and therefore do not require mitigation, which reduces engineering expenses and Bill of Materials (BOM) costs.
"The RT PolarFire FPGA reduces satellite signal processing congestion with higher levels of density and performance than any other product in our FPGA portfolio," said Shakeel Peera, vice president of marketing for Microchip's FPGA business unit. "Microchip is committed to providing high-quality and reliable solutions, and this milestone qualification provides customers with added confidence when designing our devices into their spaceflight systems."
MIL-STD-883B, the baseline qualification standard for QML Class Q, sets forth strict methods for testing microelectronic devices to ensure they are suitable for military and aerospace electronic systems. To achieve QML Class Q qualification, the RT PolarFire FPGA went through rigorous assessments to determine its ability to withstand the harmful effects of natural elements and brutal conditions found in defense and space operations.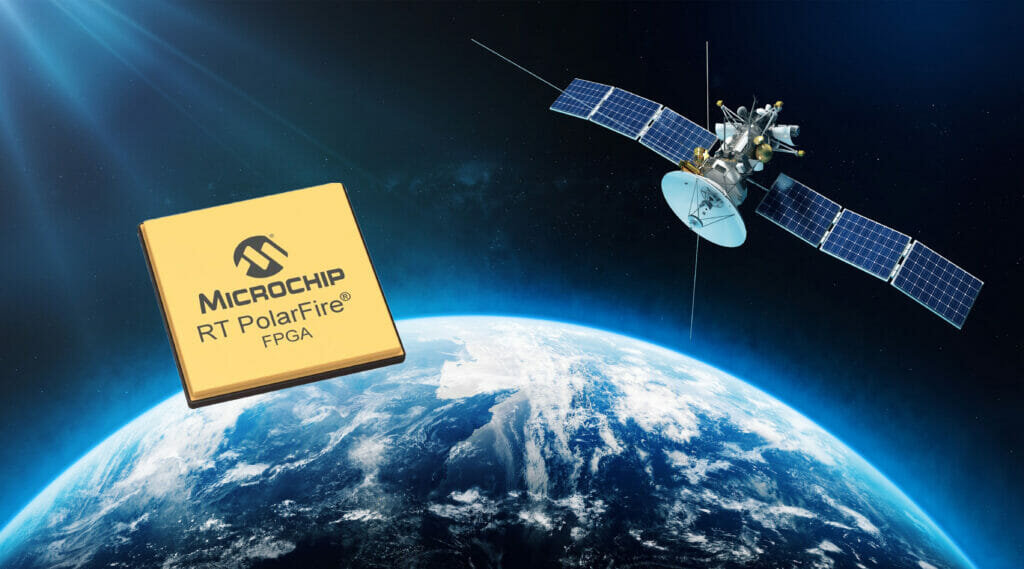 By achieving QML Class Q qualification, RT PolarFire FPGAs prove their ability to support systems that require the highest level of component quality. In addition, the QML Class Q qualification paves the way for an eventual QML Class V qualification while demonstrating the continued reliability of RT PolarFire FPGAs in space applications.
For more than 60 years, Microchip's solutions have powered space flight missions.
The company boasts one of the industry's most comprehensive space product portfolios of radiation-hardened and RT solutions that includes high-performance microcontrollers (MCUs), microprocessors (MPUs), FPGAs, memories, communication interfaces, frequency and timing solutions, mixed-signal ICs, custom power supplies, diodes, transistors, RF components and more. To learn more, visit Microchip's space application product page.
About the RT PolarFire FPGA Family
The RT PolarFire FPGA family brings Microchip's 60 years of space flight heritage to a product line that delivers the necessary computing and connectivity throughput for modern space missions. These FPGAs consume up to 50 percent less power than SRAM-based alternatives while enabling on-orbit data processing systems to meet demanding performance requirements and reliable operation without excessive heat generation in the harsh radiation environment of space. Their unique combination of Logic Elements (LEs), embedded SRAM, DSP blocks and 12.7 Gbps transceiver lanes enables higher resolution for passive and active imaging, more channels and finer channel resolution for multi-spectral and hyper-spectral imaging and more precise scientific measurements using noisy data from remote sources.
RT PolarFire FPGAs can also be paired with one or more complementary Microchip solutions in today's space flight systems including the MIC69303RT 3A Low-Dropout (LDO) voltage regulator, VSC8541RT and VSC8574RT Ethernet PHYs, CAN interface USB-to-UART PHYs and a variety of clocks and oscillators.
Availability
The RT PolarFire RTPF500T FPGA with QML Class Q qualification in B and E screening flows is available now in production quantities in hermetically sealed ceramic packages with land grid and solder column termination options. The DLA's designated Standard Microcircuit Drawing (SMD) part numbers for RTPF500T with cross references are noted here.
Manufacturers who have already adopted these FPGAs for their next-generation space flight systems will have their orders scheduled for shipment. Manufacturers who are waiting for successful QML qualification can now commit to RT PolarFire FPGAs by starting design work. Designs based on these FPGAs are developed and programmed using version 2021.3 or newer of Microchip's Libero® SoC Design Suite and are supported by development boards and radiation data.
Resources
High-res images available through Flickr (feel free to publish):
About Microchip
Microchip Technology Inc. is a leading provider of smart, connected and secure embedded control solutions. Its easy-to-use development tools and comprehensive product portfolio enable customers to create optimal designs which reduce risk while lowering total system cost and time to market. The company solutions serve more than 125,000 customers across the industrial, automotive, consumer, aerospace and defense, communications and computing markets. Headquartered in Chandler, Arizona, Microchip offers outstanding technical support along with dependable delivery and quality. For more information, visit the Microchip website at www.microchip.com.