11-12 October 2023, Silverstone, Northamptonshire
Lane Motorsport is exhibiting at the MIA CTS23 – Motorsport Engineering & Technology Show at the Silverstone Wing, located right at the heart of the UK's Motorsport Valley®. As the specialist motorsport division of Lane Electronics, Lane Motorsport specialises in meeting the electrical and electronic interconnection demands of motorsport in all its forms and can provide the latest high performance connector technology from stock, simplifying the design and procurement process and helping customers to maintain their competitive edge.
Lane Motorsport has a wealth of experience in supplying both standard and custom connectors as well as all elements of the connector system, including weight-reducing Weald Electronics motorsport accessories. Products are available to support the requirements of high-performance racing cars, motorcycles and boats including the fast-growing world of hybrid and EV platforms. Lane Motorsport also offers specialist connector assembly tooling and high-performance adhesives and dispensers.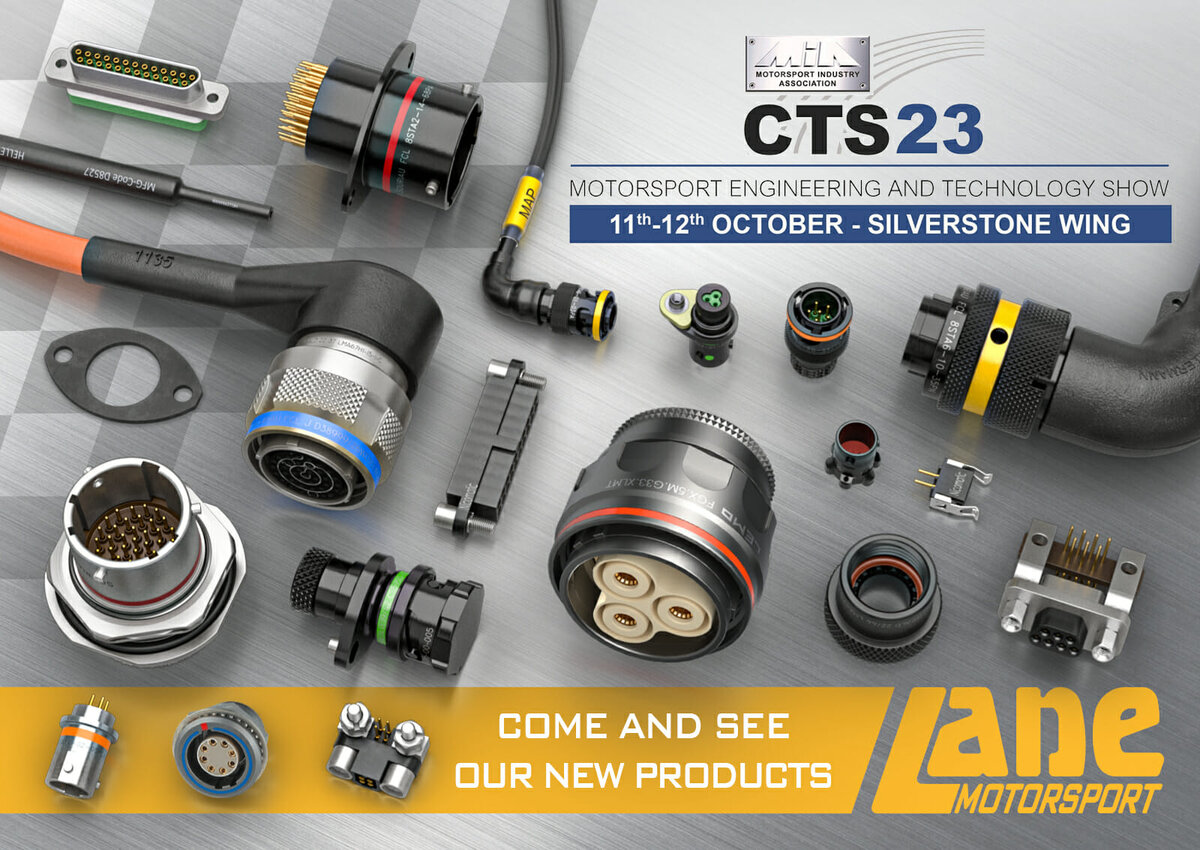 Key products on display at CTS23 2023 include:
Souriau EATON 8STA 02-06 circular connector range which now provides the smallest 6-way motorsport connector available worldwide. This space and weight saving connector family offers high density, up to contact size 26, integrated backshell and colour coding options and complements the existing 02-35 and 02-05 product. It uses proven contacts from the 01-03, is rated at 3 A per pin and uses the same crimp tooling.
LEMO M high-power connector series designed for the most stringent high power distribution requirements, utilizing the field proven, robust, waterproof, light and ultra-compact M series' bodies combined with new gold-plated low-resistance high-power contacts. With the smallest size cable plug at just 20 or 21mm OD (10mmsq cable/ 160A), the LEMO M series can handle up to 430A, and offers unipole and multipole options. These new connectors will meet the connection requirements for high power distribution of electronic devices and electric drives such as in autonomous and motorsport vehicles.
A comprehensive range of backshells and accessories from Weald Electronics and HellermannTyton. This includes waterproof lightweight protective caps, backshells and nut plates specifically designed to meet the challenging environments found in motorsport. And heat shrink boots and gaskets which are available in high-temperature and fuel resistant materials.
Nick Wheeler, Director of Lane Electronics, says, "We are pleased to be exhibiting at CTS23, the show will provide an interactive showcase of the latest high-performance technologies featuring innovative products and capabilities of world-leading motorsport engineering companies and key industry suppliers such as Lane Motorsport."
Lane Motorsport also supports UK Formula Student racing teams who are developing innovative electric racing cars on their journey to become designers of the future.
To see the complete range of products for the Motorsport sector please visit www.lanemotorsport.com, call +44 (0) 1403 790 661 or email [email protected]