Powdertech's INTRICOAT powder coating service is used for specific section coating by Blighter Surveillance Systems. Blighter makes electronic-scanning (e-scan) ground radar systems for national border security, counter-drone, wide area surveillance and coastline security. These products employ unique award-winning technology and are generally regarded as best-in-class.
Cast aluminium housings for the radar systems require meticulous powder coating. Certain areas need the critical corrosion protection that powder coating provides whereas other section must be powder free. Blighter selected Powdertech's INTRICOAT service to satisfy stringent requirements.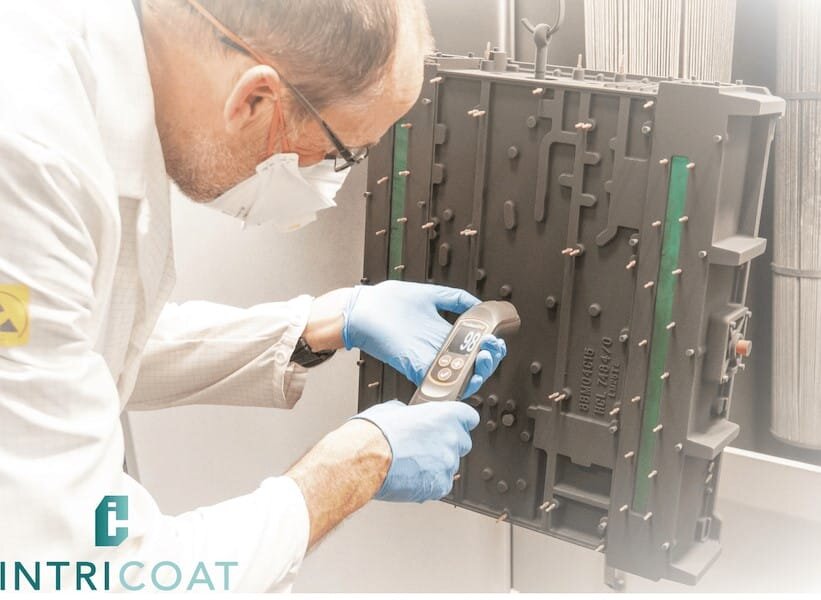 Masking to keep certain surfaces free of powder coating
The radar systems are used in over thirty different countries. The technology needs to operate in all environments including desert and coastal/offshore and in all weather conditions, with no deterioration of function. An hermetic seal between the components needs to be achieved making the interior cavity airtight.
Protective treatment of the aluminium used for the radar housing is therefore critical as every surface is important to the integrity of the product and its successful deployment of scanning, recording and disseminating abilities.
The internal surfaces of the housing need to be free of a final powder coating and therefore required an initial pre-treatment with high corrosion resistance. For application of the topcoat a detailed CAD-masking scheme was developed to keep internal areas free of powder, including preventing powder penetration into over 120 small holes per unit.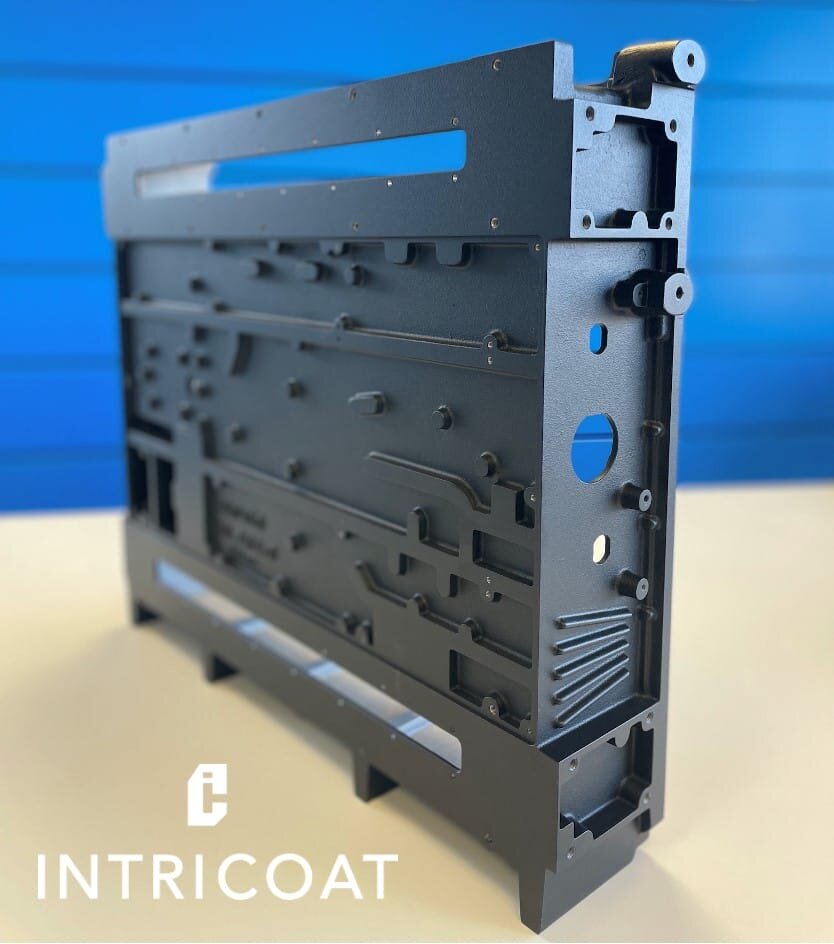 High corrosion resistance with Iridite NCP
Iridite NCP was used as the high-performance pre-treatment, having excellent resistance to corrosion and an ability to withstand very high temperatures.  Frequently specified by regulated industry sectors such as aerospace, defence, automotive and medical, Iridite can be used both as a pre-treatment under a topcoat or as a final coating.
All components underwent Iridite treatment in our plant and were then de-gassed to force out any remaining moisture.
Best-in-class powder coating application for best-in-class radar system
Powdertech's INTRICOAT team had previously designed a masking scheme on CAD, in conjunction with Blighter Surveillance Systems. Powdertech has a wealth of experience in designing and implementing these schemes and is very aware of what works and what does not. Since the housing is perforated by 120 holes per unit a lot of carefully placed masking was required.
With masking in place, the components were powder coated, all work being carried out in the dedicated Intricoat room within the Powdertech plant. Handling of parts through the powder coating process needed bespoke jigging arrangements by Powdertech to control weight distribution and ensure consistent and even coverage.
Benefits of INTRICOAT – taking care of every aspect
Your work is in safe, experienced hands. We have been powder coating for over thirty-five years.
We take responsibility for all aspects of masking and coating so that you can concentrate on critical design and engineering.
The final stage of manufacture, the finish, is generally under time pressure. We understand this and have invested in a dedicated separate facility, located within our plant, to be used exclusively for customers requiring Intricoat services.
Find more information on our website. Call 01869 248218