W23 Sync+ combines permanent magnet and synchronous reluctance technologies
WEG, a leading global manufacturer of motors and drive technology, is launching its W23 Sync+ motor line at the SPS – Smart Production Solutions exhibition that will be held in Nuremberg, Germany, from November 14 to 16, 2023. The W23 Sync+, a hybrid innovation that combines permanent magnet (PM), ferrite or neodymium magnets and synchronous reluctance (SynRM) motor technologies, provides higher efficiency across all speeds when compared with conventional induction motors. The W23 Sync+ motor line will be unveiled by WEG in hall 3A, stand 465.
As a completely new hybrid technology from WEG, the W23 Sync+ is set to shake up the industry and SPS Germany is the perfect launchpad to demonstrate the product's technical attributes. The permanent magnet synchronous reluctance motor (PMSynRM) line is suitable for applications including compressors, pumps, fans, blowers, conveyors and more.
Advantages of the W23 Sync+ motor line's include a higher level of efficiency for the entire speed range compared with conventional induction motors, and a higher power factor than synchronous reluctance motors. This results in a lower total cost of ownership (TCO) for plant managers.
"We're looking to the future with the W23 Sync+," explained Marek Lukaszczyk, European and Middle East marketing manager at WEG. "The IE5 and IE6 models far surpass the current European Ecodesign regulation, which are currently required to meet IE3 or IE4 standard. Available in IE5 and IE6 efficiency ratings, WEG offers the largest range of motors meeting IE5 and IE6 efficiency levels on the market."
The W23 Sync+ is available in frame sizes from IEC 80 to 450 (NEMA 140 to 7000). Able to operate over a wide speed range at constant torque, without the use of forced ventilation, this multi-platform solution is available inspeed ranges from 750 up to 6000 rpm. . The motor's output rating ranges from 0.75 to 1250 kW, while it's compatible with 220/380 V, 230/400 V, 240/415 V and 400/690 V power supply.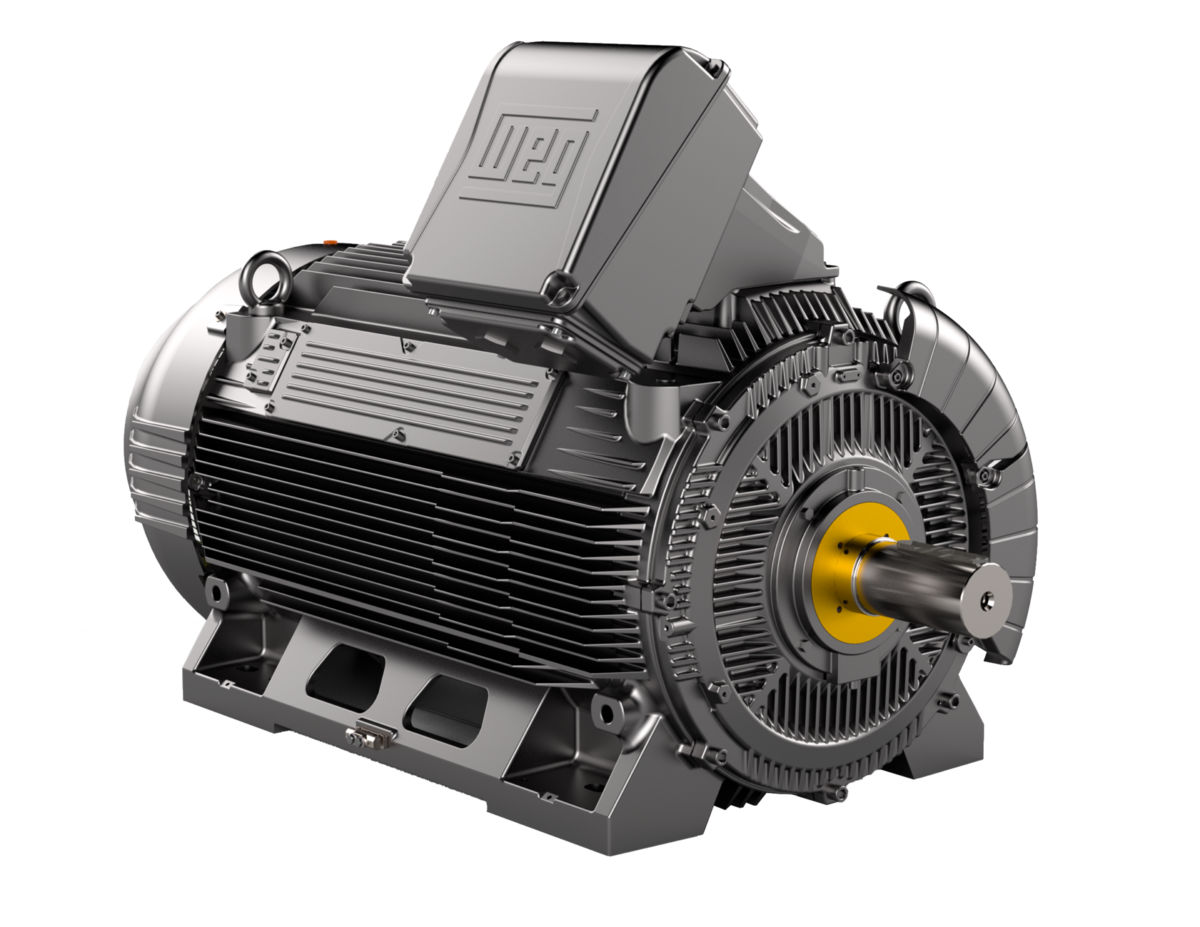 Efficiency gains
The W23 Sync+ motor line unlocks energy savings that directly impact on facilities' CO2 reductions. In fact, the WEG team has calculated that replacing an IE3 induction 75kW 4 pole with an IE6 W23 Sync+ motor variety, may result in a reduction of 126 tons of CO2 during its expected lifetime of 25 years. Taking into account an operation time of 6500h per year.
In addition, while a conventional induction motor loses over 20 per cent efficiency across its varying speed and load ranges, the W23 Sync+ maintains its higher efficiency decreasing less than.2 per cent when the load and speed are reduced for 25%.
Another key advantage of the W23 Sync+ is its compact nature with the same power per frame ratio as induction motors. For example, the IE5 variety is available in the same frame size as an IE3 motor, which makes interchangeability with existing installations smooth and hassle free.
WEG invested over €122 million in R&D in 2022. During the development phase for the W23 Sync+, WEG's R&D team wanted to ensure its customers could benefit from the best technical characteristics of both PM and SynRM motor technologies, including ferrite and neodymium magnets possibilities.
"WEG strives to increase efficiency, reduce costs, improve quality and reduce the raw materials used in products," continued Lukaszczyk. "The ferrite magnet used in the W23 Sync+ is constructed from a ceramic material and has a local supplier and producer. This avoids global supply chain issues and results in material price stability."
WEG invites attendees of SPS Germany to be among the first to see the innovative new W23 Sync+ motor technology in person. Visit the company in hall 3A, stand 465 at SPS Germany, or visit WEG's website for further information about its impressive range of energy efficient electric motors.
About WEG: Founded in 1961, WEG is a global electric-electronic equipment company, operating mainly in the capital goods sector with solutions in electric machines, automation and paints for several sectors, including infrastructure, steel, pulp and paper, oil and gas, mining, among many others.
WEG stands out in innovation by constantly developing solutions to meet the major trends in energy efficiency, renewable energy and electric mobility. With manufacturing units in 15 countries and present in more than 135 countries, the company has more than 39,000 employees worldwide. WEG's net revenue reached R$ 29.9 billion in 2022, 50.3 per cent from external markets. For more information, visit www.weg.net