Whether in agitators, conveyor systems, intralogistics or the food industry – electric motors by NORD DRIVESYSTEMS can be found wherever high performance is required. The drive specialist offers a wide range of robust, reliable and highly efficient motors. This helps save energy and operating costs.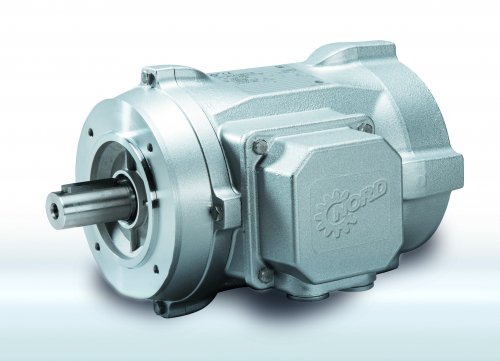 NORD_IE4_synchronous_motors.jpg: Energy saving smooth IE4 synchronous motors from NORD are highly efficient and meet the most stringent energy regulations – and thanks to PMSM technology, also in the partial load and speed ranges
Drive systems count as the main consumers of energy in industry and consume up to 70 percent of the total energy required. NORD DRIVESYSTEMS manufactures energy-saving three-phase motors of classes IE1, IE2, IE3, and IE4. As they offer considerably higher efficiencies than conventional motors, considerable energy savings can be achieved, and operating costs can be reduced.
NORD motors offer high performance at low energy consumption. They are robust, efficient and reliable and can be combined with all NORD gear units. In addition, they offer a high power density, high torques and a high overload capacity of up to 300 percent. Due to their compact design, they also can be easily integrated into confined spaces. NORD motors come with many options and in numerous versions.
Due to its hygienic, easily washable surface, the wash-down version, as a smooth motor, is ideally suited for use in the food and beverage industry. NORD smooth motors generate less heat and have a longer operating life than previous normal motors. The IE3/IE4 motors have a significantly extended operating range, which means that no safety reserves, or lower safety reserves need to be taken into account for the design of the drive unit. The robust aluminium motor housing has protection class IP 69K and can also be pressure cleaned. As an option, the innovative nsd tupH surface treatment is available.
The IE4 synchronous motors are particularly economical. The use of permanent magnets in the rotor makes these motors extremely efficient. Thanks to this technology, this high efficiency remains unchanged, even during partial load operation and at low speeds – ideal for fluctuating loads due to different products or batch sizes. NORD IE4 motors are used throughout the world, particularly in intralogistics (e.g. in post distribution centres and airports) as well as in pumps.
The NORD product range comprises synchronous motors with powers from 0.75 to 5.5 kW, and asynchronous motors with powers from 0.12 to 55 kW. ATEX versions are also available.