Spinea's comprehensive range includes TwinSpin® high-precision gear units and DriveSpin® motorised rotary actuators which are each characterised by Spinea's unique zero-backlash trochoidal gear reduction system which integrates heavy-duty radial-axial thrust bearings – effectively removing the need for separate load-support bearings in high accuracy speed or position control systems. With comprehensive technical support from Heason Technology and through proven use in robotics, automation, medical equipment, research, defence and security systems, Spinea's innovative and compact precision gear products are continually evolving – and during 2019 several new models have been added to the range.Recently updated with an improved gear reduction design, Spinea's TwinSpin G series gear units feature a higher torque density and reduced lost motion for significantly improved performance over previous generation models. Available in wide choice of modular configurations, with an input flange or input shaft, the range covers rated torques from 34 to 4000 Nm in seven frame sizes; with an exceptionally high tilting stiffness, low friction and high overload torque capability. Each model size offers various reduction ratio options and through the complete standard range the lost motion and hysteresis specification is less than 1 arc-min. A new addition to this range, the GH series, combines the performance capabilities of the G-series in hollow shaft versions with outer diameter dimensions of 85, 115 and 125 mm. With rated torques of 41, 130 and 180 Nm respectively, the GH series through-hole design can accommodate slip rings, electrical cables, fluidpower hose or other services for convenient machinery installations.
DriveSpin DS series servo actuators are ultra-compact motorised gear units capable of withstanding extremely high radial and axial loads, and offer rated torque output from 18 to 460 Nm. A newly available 60 mm diameter version, the DS60 complements the previous seven frame sized variants which range from 50 mm to 155 mm diameter. The DS series feature Spinea's high precision gear system and a high performance AC servomotor for dynamic heavy load movement or exacting position control, and is a compelling motion enabling component particularly where space is at a premium. The hollow shaft variant of the DS-series, the DSH, has also been extended with three new models with nominal outside diameter of 85, 125 and 170 mm for rated torque output of 41, 180 and 420 Nm respectively. The DriveSpin product series is also available as the DSM variant which has similar performance characteristics but include durable housings with multiple mounting capability and are typically combined in X-Y configurations for handling and assembly machinery or for pan and tilt precision motion systems. The DSM also suits direct interfacing of end effectors and other automation components without the need for adapters or support brackets.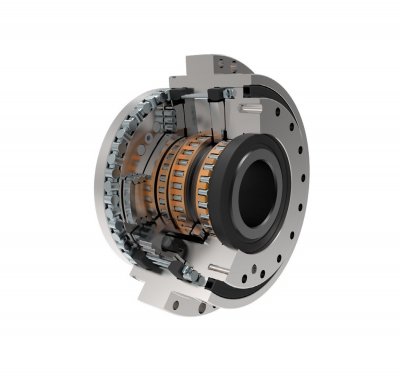 Image: Spinea's trochoidal gear reduction and radial/axial bearing technology – a new generation of power transmission systems
A new 252 page catalogue covering Spinea's comprehensive product range is available from Heason Technology. With more than a decade working closely as Spinea's distribution partner, Heason Technology, through its in-house engineering consultancy, its design and manufacturing service, has integrated many TwinSpin gear reducers and DriveSpin servo actuators as part of complete motion systems that include single and multi-axis motion controls, servo or stepper motors and complementary drive technology with standard and customised positioning mechanics. Application areas include but are not restricted to aerospace & defence, printing & packaging, medical & laboratory automation, research & development, motorsports and industrial automation.