"You Enjoy The Event. We Bring The Power". This is the slogan chosen by FPT Industrial to celebrate its role as Official Technical Partner of the final of the Red Bull Half Court, the world 3×3 street basketball tournament, hold at the Scalo San Lorenzo Playground in central Rome on 16 October.
After the two events, Red Bull Wake The City in Milan and Red Bull Cliff Diving in Polignano a Mare, for the third consecutive time FPT Industrial and Red Bull joined forces to create a thrilling sporting spectacle with speed, energy, quick thinking, skill and teamwork its main ingredients.
Held in more than 20 countries worldwide, Red Bull Half Court is not only the most spectacular but also the most universal and inclusive street basketball tournament anywhere in the world. Rap music and DJ sets, street art and performances, entertainment and street fashion all meet and mingle around the courts, involving the communities in a unique, unforgettable experience.
The entire event was fully energized by the two "Powered by FPT Industrial" power generators already successfully used at the Darsena in Milan, which will substitute the usual electricity grid from the side of the court, delivering reliable, quiet, sustainable power for the whole event: court lighting, sound, music, the hospitality village and any other equipment involved in this street sport festival.
But there's more. The two "Powered by FPT Industrial" power generators played their part in a special arena with completely illustrated walls evoking the decoration of the 800 square meter Scalo San Lorenzo Playground created by famous Roman street artist Francesco Persichella, who works under the name of PISKV.
This time the artist, who has made the Eternal City his canvas by creating spectacular murals with high visual and social impact, has drawn inspiration from a contamination between figurative style, cubism and futurism, with large geometric forms that give the work power and dynamism, representing a stylized image of the ground plan of the Colosseum containing the figure of a basketball player performing an iconic slam dunk.
"We are delighted to be working with Red Bull as Official Technical Partner for a third time," declares Carlo Moroni, FPT Industrial Head of Communication. "Being an integral part of another sporting event with worldwide resonance proves the profound affinity between two brands that have energy as their core business, and it is also a tribute to the reliability, sustainability and efficiency of our power generation engines, which were counted on to provide energy for the players on court and for the large crowds watching from the stands."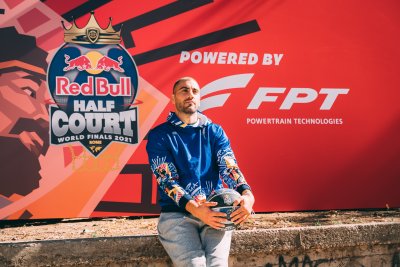 Dušan Domović Bulut, Serbia team, winner of the competition