Eclipse Magnetics recently supplied some of their Magnetic Chucks to drive efficiencies at a leading worldwide research and technology organisation.Employing over 800 employees, TWI Ltd. specialises in advanced welding techniques across a variety of industry sectors.
Eclipse supplied 6 rectangular grinding chucks to the TWI Technology Centre (Yorkshire) in Sheffield, a leading worldwide hub for research and development into Friction Stir Welding.
Friction Stir Welding steel is a relatively new technique. Often used to manufacture safety-critical components in such industries as transport, marine, and aviation, it provides a high-quality, seamless weld. It uses frictional heat to fuse metal surfaces, thereby producing a high-strength, low-weight weld that consistently provides greater corrosion and fatigue resistance than traditional welding techniques.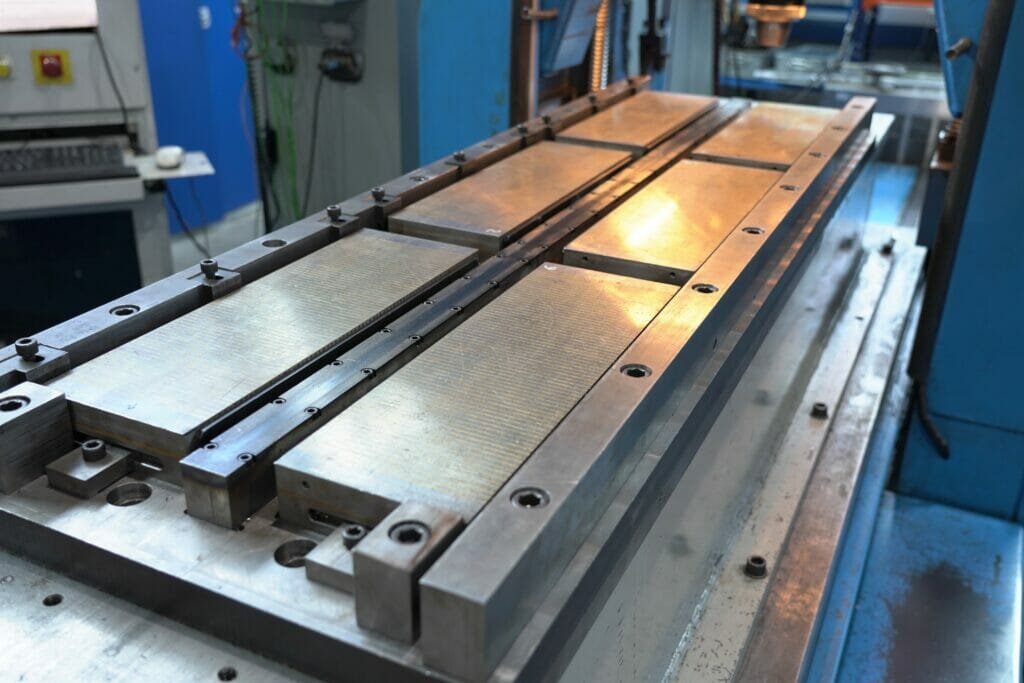 A fundamental challenge for Friction Stir Welding is selecting the right clamping technique. The TWI Technology Centre required a clamping system that could maintain a 100% secure hold. As the tool passes through the faces being welded, high forces are generated, which makes the workpiece prone to slippage or movement. It is vital for the integrity of the weld that the hold is secure, especially when the technique usually involves high-value workpieces.
TWI also needed a clamping system that was simple and relatively fast to set up. Previously, they used manual clamps and bolts to secure the workpiece, which involved drilling bolt holes into the workpiece and was time-consuming to set up. Set-up times could be up to an hour, depending on the complexity of the workpiece.
Magnetic chucks provide instant clamping and require only access to a single face; there are no drilling holes. They also allow for easy adjustment if the positioning is not correct the first time. In this case, the up to 1 hour set-up time was reduced to just a few seconds. The high intensity magnetic clamping force comfortably provides ample holding force. Using 6 x 450 mm long chucks in a mounting frame allows sensors and measuring equipment to be mounted in the gaps between each chuck.
Stephen Cater, Principal Project Leader (Friction and Forge Processes), commented, "Using the magnetic chucks has markedly reduced our set-up and dismantling times compared to traditional manual clamping. Our remit is to provide our clients with a high-quality product and an efficient manufacturing technique that can be scaled up to drive production efficiencies. Using the magnetic solution has satisfied every criterion."
Eclipse produced the world's first permanent magnetic chuck in 1934 and has remained at the forefront of work-holding techniques ever since. We offer a range of permanent magnetic chucks and electro-permanent magnetic chucks for clamping or holding in grinding, milling, and cutting applications.
For further information, visit www.eclipsemagnetics.com or contact [email protected]. For more information about TWI Ltd., visit www.twi-global.com or e-mail t[email protected].