The Teledyne FLIR Scion® series of long-range monoculars, built to equip law enforcement professionals
and military personnel with superior thermal surveillance, is now available to customers in the EMEA
(Europe, Middle East and Africa) region at an attractive 15% discount. This not-to-be-missed promotion also
includes a free rechargeable battery, providing a limited-time opportunity for law enforcement agencies,
police forces and border guards to enhance their service performance at a reduced price.
Featuring Teledyne FLIR's high-performance Boson® thermal core for sharp, reliable vision in complete
darkness, Scion long-range (up to 1120m) thermal monoculars are ideal for a host of applications, from
maintaining a safe stand-off distance during law enforcement operations, to scanning distant ridgelines for a
lost backpacker.
Feature-rich Scion PTM and OTM monoculars are available with 9 or 60 Hz refresh rate and include: Wi-Fi
and Bluetooth® connectivity; 2 GB of internal storage; a microSD™ card slot to record both geo-tagged
video and still images; a rugged IP67-rated housing; picture-in-picture zoom; and GPS functionality.
Additionally, a 'Lock Span Mode' creates highly detailed images by eliminating unwanted temperature
detection.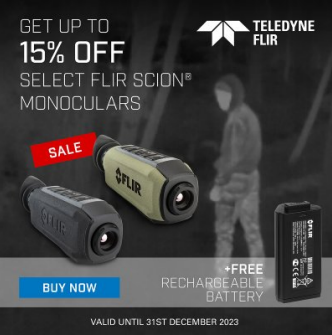 The promotion is valid until 31 December 2023.
About Teledyne FLIR
Teledyne FLIR, a Teledyne Technologies company, is a world leader in intelligent sensing solutions for
defense and industrial applications with approximately 4,000 employees worldwide. Founded in 1978, the
company creates advanced technologies to help professionals make better, faster decisions that save lives
and livelihoods. For more information, please visit www.teledyneflir.com or follow @flir.