Reliable transmission of critical signals Waterproof when unmated
Intelliconnect (Europe), the UK based specialist manufacturer of RF, Microwave, Waterproof and Cryogenic connectors and cable harnesses leads the way in waterproof connectors and adaptors with its Pisces Range.  One of the custom design product ranges offered by Intelliconnect these connectors are designed for use in harsh environments where reliable signal transmission is critical.
The Pisces connector range includes a variety of connector types including SAM, N, TNC and BNC, as well as the option of customisation. They are available in a number of configurations such as straight, right-angle and bulkhead and may be supplied pre-wired to cable types and lengths for individual customer requirements.
A key feature of the Pisces range of connectors is its high level of environmental sealing. They are designed to meet or exceed IP68 standards for water or dust resistance and can withstand exposure to  extreme temperatures, shock and vibration. This makes them ideal for use in applications such as defence, medical, industrial and oil and gas exploration.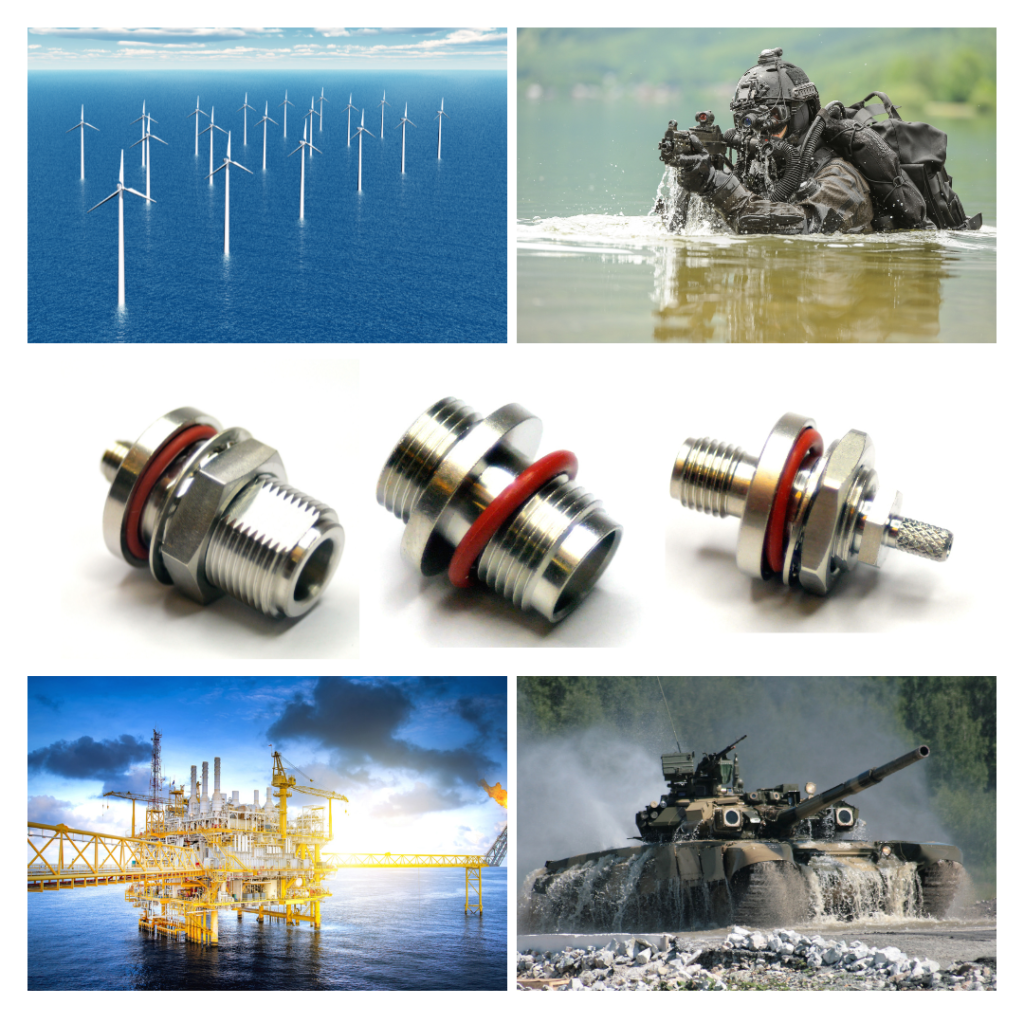 All Pisces connectors are sealed internally making them waterproof when unmated. Key product in the Pisces range include:
ABMS is a special subminiature connector interface originally designed for use with cochlear implants. This series is based on MCX but with enhanced ruggedisation enabling 3,000 mating cycles.
TNC has an extensive portfolio of plugs, jacks, adaptors and cable assemblies. Because of its size, ruggedness and relative low cost it is a very popular style.
N Type range is ultra rugged and also available in a wide range of plugs, jacks, Adaptors and cable assemblies.
SMA waterproof is a subminiature connector series which is one of our most popular due to its small size and 18Ghz+ operating capacity.
The Pisces range also includes a number of accessories including dust caps and strain reliefs to ensure that the connectors remain protected and secure during use. As well as numerous types of RF/Coaxial product, Intelliconnect can supply high-spec multipin and electrical interconnect solutions as well as hermetically sealed product for higher pressure environments.
Steve Groves, Sales and Marketing Director at Intelliconnect, says, "Our Pisces connectors offer a high-quality, reliable and customisable connectivity solution for applications which require rugged, waterproof, high performance and excellent environmental sealing."
Intelliconnect (Europe) Ltd  is the largest UK based manufacturer of RF, microwave, waterproof and cryogenic connectors and cable harnesses suitable for applications including wearable technology, medical, telecoms, satcoms, military, aerospace, space, general microwave communications, rail traction, oil and gas and marine. Intelliconnect also manufacture the market leading Pisces range of waterproof RF connectors, coaxial adaptors to facilitate inter-series connection and gender change etc. dust-caps and offer value added services.
Their recently launched and fast-growing cryogenic cable assembly business CryoCoax supplies the growing market for quantum computing, medical, research, test and measurement and the emerging low temperature computing markets.
Intelliconnect's cable division are specialist manufacturers of affordable, high quality, high frequency microwave cables including triaxial assemblies, semi-rigid, semi-flexible and cryogenic cables as well as standard RG/LMR type products. Cables can be waterproofed to IP68 and include special features including phase matching and ruggedised assemblies for use in harsh environments.
For more information call +44(0)1245 347145end_of_the_skype_highlighting, email [email protected]  or visit www.intelliconnect.co.uk