Increasing demand for clean and sustainable energy solutions is helping fuel the growth of a Wolverhampton-based renewables business.
Neal Energy Solutions, which is run by brother and sister team Shawn and Samantha Hogan, has seen sales increase 200% this year and is looking to capitalise on the surge in orders with the launch of a new showroom on the outskirts of the city.
More than £20,000 has been invested into kitting out the Stafford Road facility with a host of solar panels, EV charging points and air source heat pumps that are suitable for both domestic and commercial applications.
Technical experts will be on hand to talk customers through product features and the latest innovations, with the back office also acting as the logistical hub for planning what is often 50 plus installations every week.
"This was a natural next investment for us having passed the £2m sales mark early this year," explained Shawn, who has been specialising in solar solutions since 2018.
"Interest is coming from homeowners and businesses, and we can only see this continuing as we all look at more cost-effective ways to power our houses, offices and factories."
He continued: "We wanted to give ourselves a physical presence so decided to take on the showroom on the Stafford Road, one of Wolverhampton's busiest routes and close to the main motorway network.
"There's lots of space to showcase brands and products and that will help guide the conversation with the customer, giving them the immersive opportunity to compare models side by side."
Neal Energy Solutions, which employs 20 people, is planning to officially open the showroom on Friday July 14th at 3.30pm.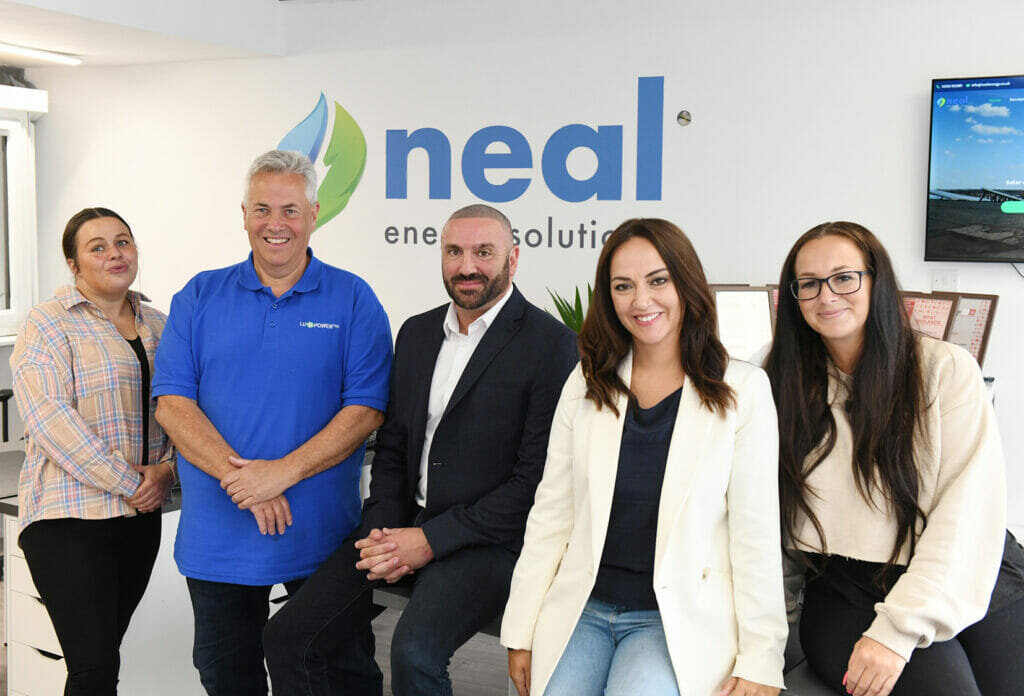 Legendary Wolverhampton Wanderers striker Steve Bull will cut the ribbon and will stay to talk and sign autographs for the 100 or so guests expected to be present for speeches and networking.
Samantha went on to add: "We are really looking forward to the celebrations at the end of the week. A lot of businesses are already signed-up to attend and we're also happy to welcome people who may just be popping by and want to see what we do."
Accredited to the Microgeneration Certification Scheme (MCS) and Home Insulation & Energy Systems (HIES), Neal Energy Solutions is also approved to deliver the eco4Scheme, a programme designed to address fuel poverty and promote energy efficiency in households.
This gives homeowners access to funding to fit energy-efficient measures, such as insulation, heating upgrades and renewable energy installations.
For further information, please visit www.nealenergysolutions.com or follow the company on their social media channels.
Neal Solutions (Ext L2): (l-r) Terri-Ann Howell (Administration Manager), Mark Needs (Installation Manager), Shawn Hogan (Managing Director), Samantha Hogan (Sales Director) and Emma Smith (Marketing Executive)