New GoFa™ variants set new banchmark with higher payloads, best-in-class reach, and market-leading repeatability
Cat 3/PLd safety certified for close collaboration with workers
Lowers barriers to entry further for first-time users, SMEs and educators with easy programming and rapid deployment
ABB is launching two new variants of its GoFaTM collaborative robot. The GoFa 10 and GoFa 12 offer new possibilities for companies to leverage cobot automation for enhanced efficiency. Handling payloads of up to 10 and 12 kilograms with market-leading repeatability, the cobots can handle an expanded range of tasks in close collaboration with workers, addressing skills and labor shortages while improving safety and productivity. Offering straightforward programming and rapid integration into production environments, the new variants lower barriers to entry for first-time users, educators and SMEs.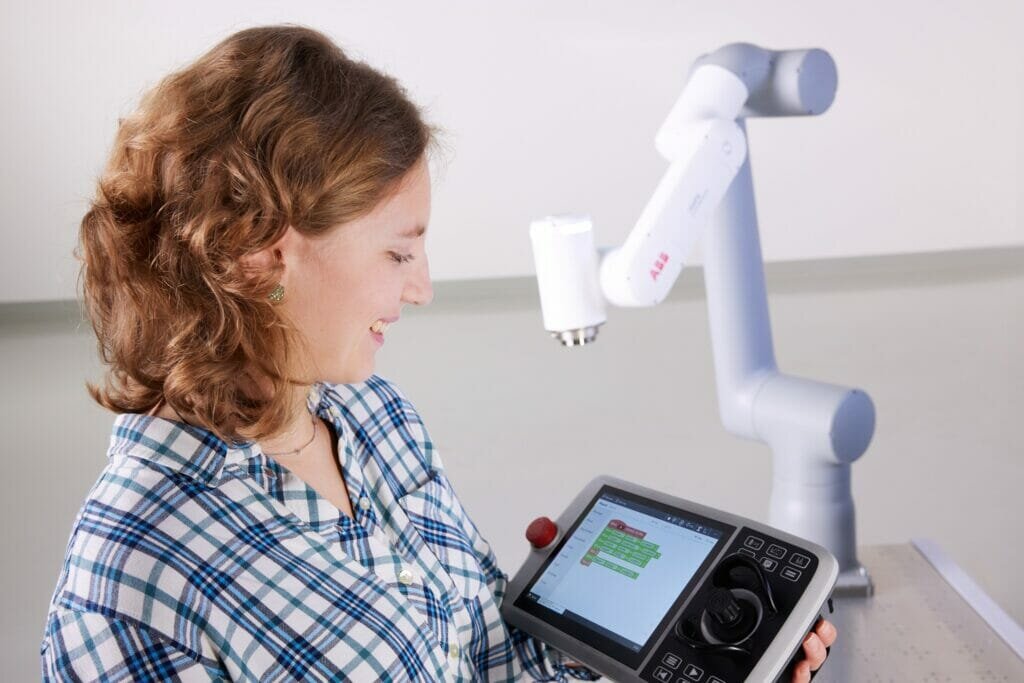 "Since we launched our YuMi cobot in 2015, we have built an industry-leading cobot portfolio meeting growing demand for safe and easy-to-use automation solutions to plug gaps in skilled labor," said Marc Segura President, ABB Robotics. "Addressing the need for collaborative robots with higher payloads and longer reach, our GoFa 10 and 12 cobots extend the benefits of automation to new industrial applications, even for first time users."
In addition to their enhanced payloads, the GoFa 10 and 12 cobots offer class-beating tool center point (TCP) speeds of up to two meters per second with 0.02-mm of deviation for greater repeatability – a two-fold improvement over comparable solutions. IP67-certified against moisture and dust ingress, they extend the benefits of fast and accurate collaborative robotics to new industrial applications, automating demanding tasks such as machine tending, welding, parts handling, polishing, and assembly. The GoFa 10's 1.62-meter reach – 14 percent more than others in its class and enough to cover US pallets – makes it ideal for palletizing applications.
Lowering barriers to automation for first-time users and SMEs
The GoFa 10 and 12 cobots are straightforward to program, deploy, and use, lowering barriers to automation for first-time users and SMEs. Setup is made easy with lead-through programming and ABB's Wizard easy programming software, allowing even non-specialists to quickly automate their applications by manipulating simple graphical command blocks rather than writing complex programming code.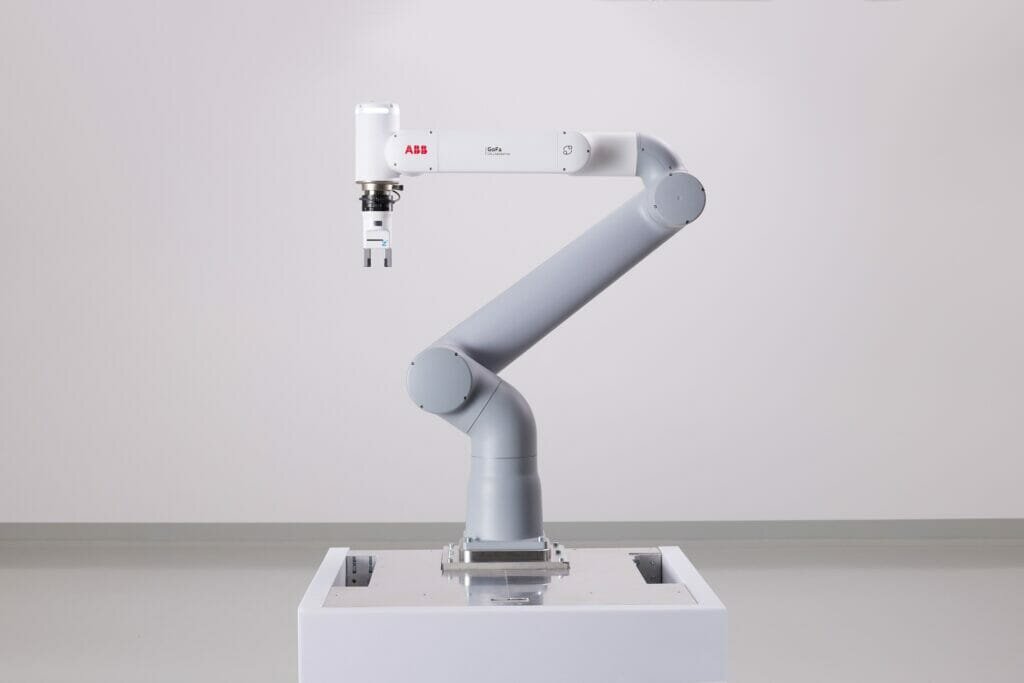 Pre-installed on the cobots' ABB's FlexPendant robot controller, the ABB SafeMove app features safe speed limits, standstill monitoring, and orientation supervision, enabling close collaboration between robots and factory workers without requiring bulky protective barriers or fencing.
The GoFa 10 and GoFa 12 cobots are powered by ABB's OmniCoreTM controller. The combination of OmniCore's class-leading motion control provided by ABB's TrueMove and QuickMove motion control technologies and GoFa's intelligent torque and position sensors ensures the smooth movements needed for high precision surface finishing, fastening, assembly, and testing tasks. Energy saving features including power re-generation and brake energy recovery reduce power requirements by up to 20 percent, enhancing sustainability.
Leveraging innovation from the ABB Robotics ecosystem
Responding to the growing diversification of automation applications, ABB also launched its ABB Robotics Ecosystem program. Bringing together third-party accessories such as grippers, cameras, and customized software that are compatible with the ABB portfolio, including the new GoFa cobots, the program lets users easily leverage innovation from across the fast-growing ABB Robotics ecosystem.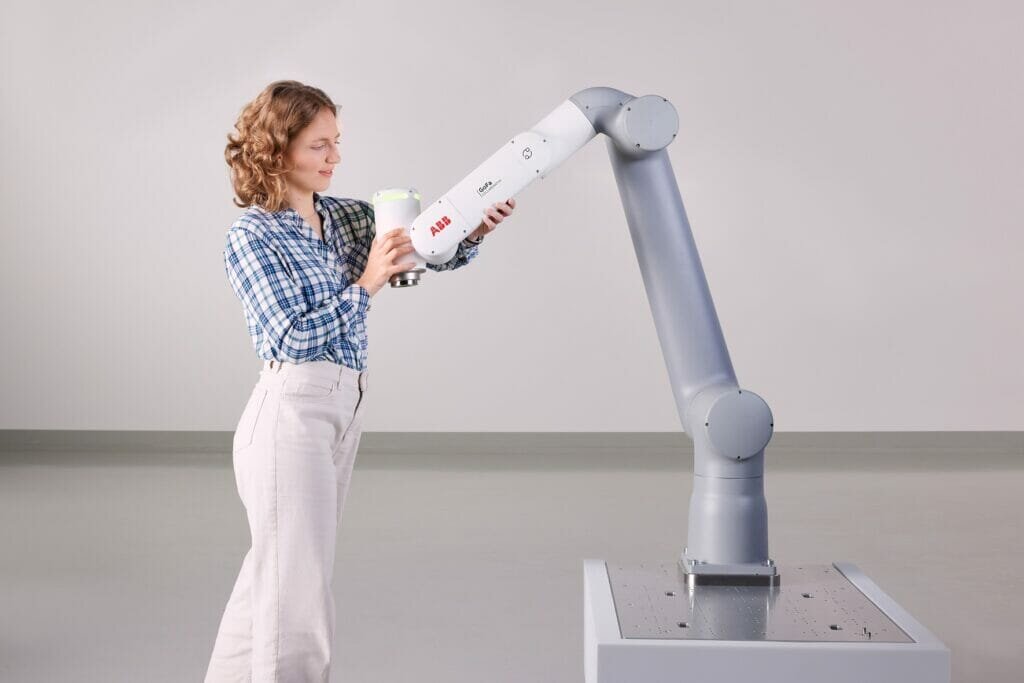 The GoFa 12 cobot will be making its debut at ABB's stand at Automatica 2023 (Hall B5, booth 319, June 27th-30th) as part of two demonstrations showcasing high precision machine tending and ultra-lean palletizing applications. ABB partner Schunk will also be at the show with a GoFa 12 cobot, demonstrating its range of grippers and tools with a polishing application (Hall A5, booth 502).
Those unable to attend Automatica are invited to join the digital launch hosted on LinkedIn Live on June 29th at https://lnkd.in/diGPZvys.
ABB (ABBN: SIX Swiss Ex) ABB is a technology leader in electrification and automation, enabling a more sustainable and resource-efficient future. The company's solutions connect engineering know-how and software to optimize how things are manufactured, moved, powered and operated. Building on more than 130 years of excellence, ABB's ~105,000 employees are committed to driving innovations that accelerate industrial transformation.
ABB Robotics & Discrete Automation as one of the world's leading robotics and machine automation suppliers, is the only company with a comprehensive and integrated portfolio covering robots, Autonomous Mobile Robots and machine automation solutions, designed and orchestrated by our value-creating software. We help companies of all sizes and sectors – from automotive to electronics and logistics – become more resilient, flexible and efficient. ABB Robotics & Discrete Automation supports customers in the transition towards the connected and collaborative factory of the future. The business area employs approximately 11,000 people at over 100 locations in approximately 53 countries. go.abb/robotics