Global leader in embedded solutions, DFI supported their parent company BenQ Qisda Group at this year's Computex 2023 to become the first and only exhibitor with international ISO certification in sustainability.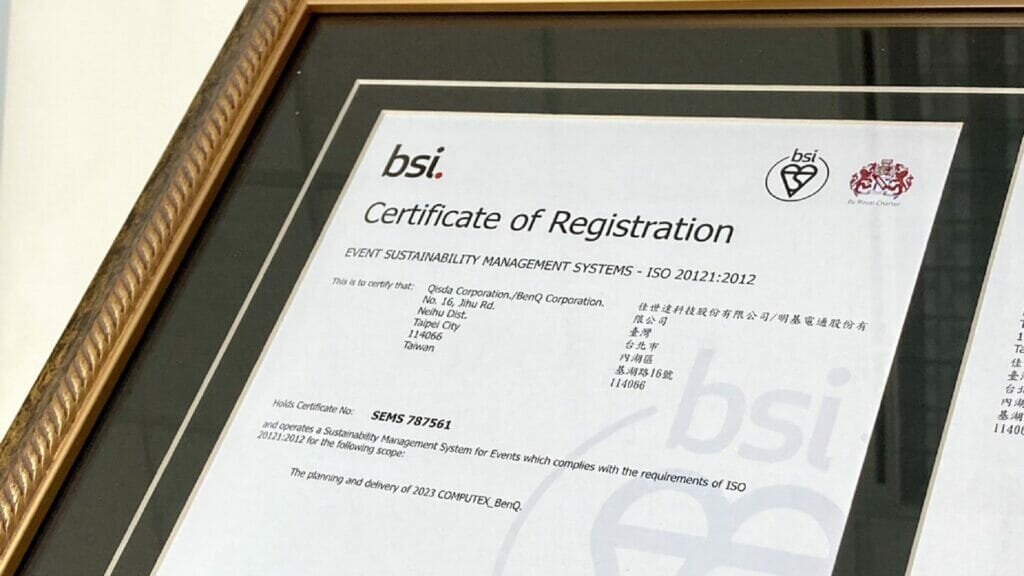 The 5G smart pole solution, which helps to save energy and reduce carbon emissions for the global transportation field, was also highly recognized during the exhibition. DFI's determination to leverage innovative technologies helps the world achieve its sustainability vision.
The "ISO20121 Sustainable Event Management" was first adopted by the 2012 London Olympics and provides the global management standard for event sustainability. DFI is one of the 30 sustainable partners of BenQ Qisda Group to participate in the initiative and practice of green exhibitions. Adhering to the concept of injecting sustainable strategy into planning short-term exhibitions, they helped the group meet all standards and pass all third-party verifications for the 15 green sustainable goals in the three major areas of ESG environment, society, and governance.
DFI's President Alexander Su said, "DFI is almost in its 5th decade of continuing the group's long-term vision and spirit of "achieving truth, goodness, and beauty in technology and life." From products and operations to financial performance and implementation of social responsibility, DFI works with global industry partners to make sustainable net zero their primary mission and hopes to internalize sustainability into the company's DNA. We are delighted to have the opportunity to participate in the group's sustainable actions and share the results. We will continue to move forward based on the existing foundations and contribute to the world's sustainable vision."
DFI's corporate sustainability strategy revolves around five main axes
In recent years, DFI has focused on sustainability strategies and the United Nations' Sustainable Development Goals (SDGs). They have planned capital expenditures in six primary directions: finance, manufacturing, intelligence, staffing, society, and nature. They have also outlined the five development axes "Green Products," "Green Operations," "Green Supply Chain," "Social Responsibility," and "Financial Performance." The strategies have been promoted comprehensively through the Corporate Sustainable Development (CSD) Committee headed by President Alexander Su.
In response to the global trend of carbon reduction, DFI has made advancements in both their products and production. Product research and development focus on miniaturization and low carbon emissions. They developed the world's first 1.8-inch industrial motherboard, GHF51, with high computing performance and integrated products such as the 5G smart pole solution with the miniature, fanless industrial system EC70AECU. DFI has assisted in the intelligent transformation of fields such as factories, transportation, energy, medicine, etc. On the production side, the new Taoyuan factory's production line is upgraded intelligently, saving 20% in energy consumption and reducing production costs by 30% for more than a year.
Thus far, the proportion of DFI product models meeting the ErP Lot3 regulations has increased from 47% to 50%, and over 90% of products consist of steel and aluminium parts that are easily recycled and reused. DFI has also brought the spirit of sustainability to its supply chain, as they successively signed documents such as the "Declaration of Non-use of Hazardous Substances" with suppliers. Additionally, they have used their technologies to implement corporate social responsibility. In 2022, DFI provided their touch screen tablet
technology and participated in promoting Taoyuan City Fuxing District's "Blissful Bus" project to help Taoyuan City build a smart city.
Together with global partners, DFI's goal is to create a low-carbon, sustainable home.
DFI has cultivated sustainability for a long time and established an excellent brand image and customer satisfaction. In 2022, they won the Electronic Information Manufacturing Bronze Award in the Corporate Sustainability Report category at the Taiwan Corporate Sustainability Awards, demonstrating the world's affirmation of DFI's sustainability investments. The sustainability strategy has also driven steady growth in operations. In 2022, the consolidated revenue reached a record high of $16.2 billion Taiwan dollars, with an
annual growth rate of 22.5% and positive growth for five consecutive years. Due to DFI's rapid growth in recent years, they also ranked among the England Financial Times' top 500 high-growth Asia-Pacific companies in 2022.
Looking toward the future, DFI President Alexander Su stated, "DFI will work with partners from all over the world to meet their goal of building a low-carbon, sustainable home. They will continue to carry out strategies such as implementing energy-saving equipment, increasing the use of renewable energy, planning lowcarbon production, developing low-carbon products, and accelerating the introduction of green solutions into society. They will continue promoting the ISO50001 international energy management certification and deliver better customer services.
For more information, please visit: https://www.dfi.com/, LinkedIn or contact us.