Industrial process heating equipment and solutions specialist Babcock Wanson has completed a turnkey project to supply steam, via its BWD30 fire tube boiler, to cookers at IRC Cucina's new Trafford Park centralised kitchen.
Working within the Iceland Foods umbrella, IRC Cucina supplies product into a diverse restaurant group.  Its newly-established site at Trafford Park, which has benefited from a major investment, is now the UK's largest centralised kitchen and will enable the company to not only produce high quality, consistent food, but will also allow for future growth.
Babcock Wanson was brought in to the project at an early stage, as IRC Cucina's General Manager, Robert Lishman explains: "This was a relocation of a complex dual site operation into a larger single site operation, post build. We moved at a pace with this project and started it without an end to end system.  Consequently, as we were building the kitchen, our plans changed.  With each change Babcock Wanson risk assessed, consulted with the various parties, and adapted to our plans.  They were very accommodating.  They are our go to supplier.  In fact, they are more than a supplier as their specialist knowledge and expertise extends beyond just the equipment and into the legal implications of the processes involved, so we rely heavily on them for compliance."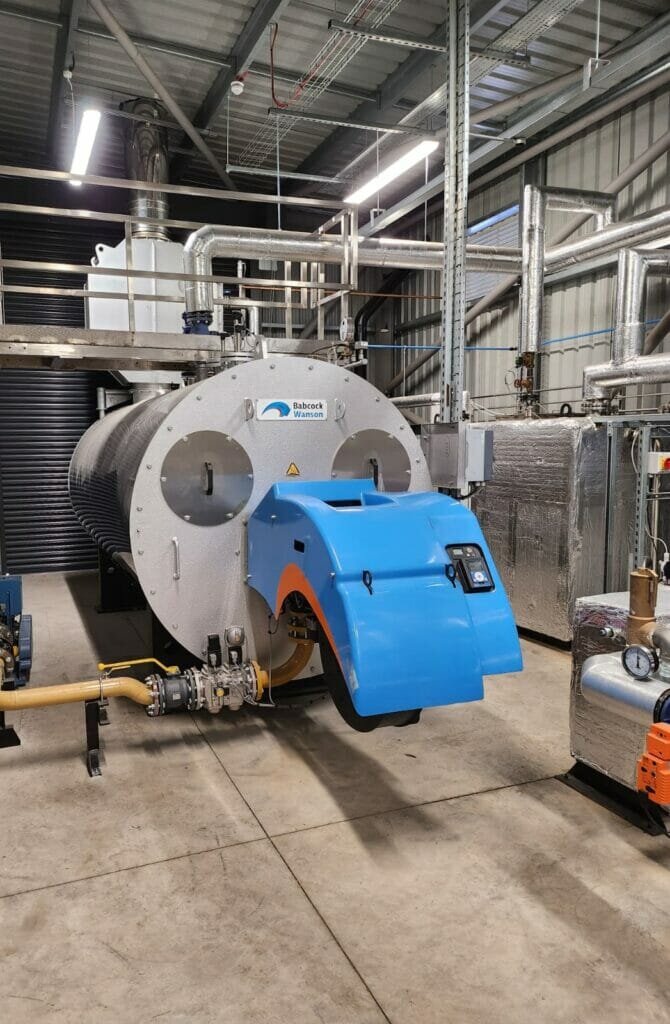 The focus of Babcock Wanson's work at IRC Cucina's Trafford Park site has been on the sous vide and sauce cooking equipment, which requires large volumes of steam supplied instantaneously.  Babcock Wanson's BWD30 fire tube steam boiler, with its three pass design, readily meets this need, providing high quality dry steam with availability higher than 97%.  As you would expect from a Babcock Wanson boiler, it is compliant with all relevant environmental standards and is reliable and robust.
The BWD30 fire tube steam boiler comes with Babcock Wanson's BW7DAYS unattended boiler operating system, which automatic Total Dissolved Solids Control.  It features the unique and innovative NAVinergy remote monitoring system which integrates all the components necessary for the supervision and management of the boiler room.  It enables organisations to monitor their boiler room from any device, anywhere in the world.  For IRC Cucina, BW7DAYS has proven both cost-effective and reassuring: "with remote monitoring and alerts sent direct to wherever you are, you don't have to worry about how the boiler is performing" states Robert.  "The safety systems in place give you the confidence it is running as it should.  It's really user friendly.  It also avoids the need for constant labour of centralised plant, which is a full time resource."
Babcock Wanson not only provided the BWD30 fire tube steam boiler, but also undertook the full mechanical installation works, completing initial studies, detailed engineering, design appraisal, installation and commissioning.  An important part of the system was energy recovery, with Babcock Wanson incorporating a heat exchange plate into the system.  The recovered heat is used for office space heating and for hygiene hot water.  "Essentially it's free energy!" states Robert.  "Babcock Wanson has saved us tens of thousands of pounds."
IRC Cucina's Trafford Park centralised kitchen is now up and running, and to keep everything functioning as it should, a maintenance contract is in place with Babcock Wanson.  This was awarded to the company as "no one knows the system better than them!  They have the specialist skill set required, plus lots of engineers and a good response time".
For more information, please contact Babcock Wanson on 020 8953 7111 or [email protected] or go to www.babcock-wanson.com