Schneider Electric launches two new SCADAPack Smart RTU controllers
The rugged remote terminal units (RTU) have the flexibility of Linux for an adaptable and expandable platform
Schneider Electric, the leader in digital transformation of energy management and automation, has launched two SCADAPack controllers. The new 471i and 474i Smart RTU controllers now come with integrated edge computing platform and combine the field-tested remote terminal units with the flexibility of a Linux open-source operating system.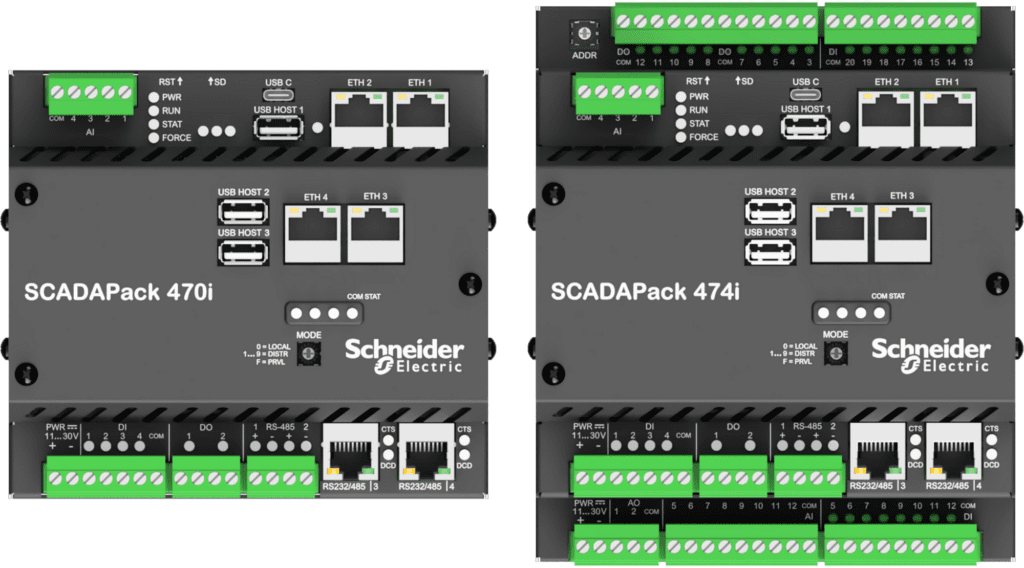 Compliant with cybersecurity standards, the new SCADAPack controllers solve common remote operations challenges and employ secure-by-design communication protocols. With open-source Linux businesses are able to leverage existing automation and coding skills and capitalise on the large ecosystem of embedded Linux libraries, while being built to withstand harsh environments.
"We designed the SCADAPack 470i and 474i to fit all of our customers' remote operations needs inside one securable device," said John Cavalenes, leader of Schneider Electric's Remote Operations portfolio. "Schneider Electric is at the forefront of digitalisation, and this latest offering is designed to facilitate IT and OT convergence with an integrated edge platform and to help many industrial segments equip their next generation of engineers with the most advanced tools."
Explore the full range of benefits from SCADAPack here.
Simplicity: Use RTU essentials such as IEC 61131-3, datalogging, and an electronic flow computer, with open-standard telemetry protocols such as Modbus, DNP3, and IEC 60870-5-104 with edge capabilities.
Flexibility: Solve common remote operations challenges using a wide range of approaches, including C/C++, Python, Node-RED, REST API containers, and more. Employ secure-by-design communication protocols such as MQTT, Sparkplug B, and OPC UA.
Cybersecurity: They comply with IEC 62443 SL1 standards and help to secure communications using technologies such as DNP3 SAv2, IP firewall, NAT, and TLS. Their ruggedised IP communications have been tested to comply with Achilles Level 2.
Efficiency: Leverage existing automation and Linux skills, training, and code, and capitalise on the large ecosystem of embedded Linux libraries, tools, and forms.
Legacy: They provide upgrade paths for existing SCADAPack RTUs to the latest technologies, including C/C++ applications.
Longevity: Built to withstand harsh environments, this latest offering can operate in extreme outdoor temperatures (-40⁰ to 70⁰ Celsius / -40⁰ to 158⁰ Fahrenheit). The SCADAPack 470i and 474i include North American Class I, Division 2, and ATEX/IECEx Zone 2 hazardous area certifications.
About Schneider Electric
Schneider's purpose is to empower all to make the most of our energy and resources, bridging progress and sustainability for all. We call this Life Is On.
Our mission is to be your digital partner for Sustainability and Efficiency.
We drive digital transformation by integrating world-leading process and energy technologies, end-point to cloud connecting products, controls, software and services, across the entire lifecycle, enabling integrated company management, for homes, buildings, data centers, infrastructure and industries.
We are the most local of global companies. We are advocates of open standards and partnership ecosystems that are passionate about our shared Meaningful Purpose, Inclusive and Empowered values.