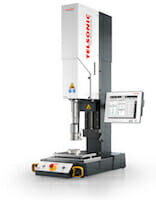 Telsonic UK Limited will consolidate their position as a key supplier of ultrasonic welding & joining technology for the plastics industry, with their participation at Interplas 2023, the UK's definitive and leading plastics event being held at the N.E.C in Birmingham, between the 26-28 September 2023.
Telsonic UK continues to see a year-on-year increase in the use of their ultrasonic modules and systems for plastic welding and joining applications across all sectors, including automotive, medical, occupational health and rigid & flexible packaging.
The Telsonic stand at this event will feature a user friendly cobot exhibit fitted with Telsonic's 35Khz welding equipment to mimic multi point robot welding applications.
 (Telsonic continues to see year on year growth in the demand for its ultrasonic modules and systems)
Telsonic UK Limited can be located on stand C47 at this year's event. Company representatives will be on hand throughout the show with literature covering the capabilities of Telsonic's ultrasonic systems and modules, and to discuss all aspects of ultrasonic processes including welding and joining, cut'n'seal, cleaning and packaging and also give advice on individual customer applications.
Telephone – 01202 697 340
E-Mail  – [email protected]
Web     – www.telsonic.com
Blog     – http://telsonicuk.wordpress.com/