3D Tech: the reality – insights, trends and applications 
28th – 29th September, NEC, Birmingham
Speaker highlights – Royal Brompton Hospital, Sutrue Ltd, Caterpillar Inc. and Alstom
Exhibitor Highlights – TRUMPF, Stratasys and Olympus
28th July 2016 – Rapid News Publications Ltd, organisers of TCT Show, a specialist event dedicated to 3D manufacturing tech, has announced the speaker line-up for its 21st TCT Show Conference and details of the comprehensive exhibitor list. Covering the medical, aerospace, automotive, industrial and consumer product design industries, the show will bring together a range of expertise from all areas of the additive manufacturing and 3D printing industry, along with upstream, downstream, competing and complementary technologies.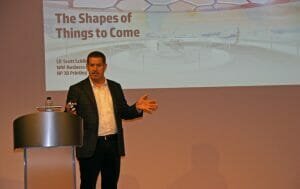 Conference highlights include insights, trends and real-life applications from, Royal Brompton Hospital, Sutrue Ltd, Caterpillar Inc and Alstom. On the show floor some 220 companies will be exhibiting, with key players to include TRUMPF, Stratasys and Olympus.
The TCT Show conference schedule includes:
Richard Trimlett, Consultant Adult Cardiac Surgeon, Royal Brompton Hospital and Alex Berry, Founder, Sutrue Ltd.  From Theory to Theatre Using Additive Manufacturing – Examining how AM has increased cross-discipline collaboration between product designers and surgeons with life-changing results.
Austin Schmidt, Senior Additive Manufacturing Design Engineer, Caterpillar Inc. Assessing Additive Technologies – A.M. Deployment Strategies in Large Corporations – How to deploy additive manufacturing within an organisation and encourage human engagement.
Jan Vandenbrande, Program Manager, Defence Science Office, DARPA. TRAnsformative DESign –AM has created shapes and material properties previously thought impossible but the generation of new designs is still challenged by outdated opinions about materials and manufacturing.
Christophe Eschenbrenner, Digital Supply Chain Manager, ALSTOM. Customer service and supply chain impact for spare parts activities: end-user REX within the Public Transportation industry – Taking a look at usages and benefits, and reviewing the impact on the engineering, industrial supply chain now and over the next decade.
Airbus AP Works, Siemens and 3M as well as leading research institutions from across the globe will also be presenting.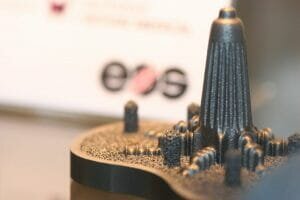 On the show floor both Stratasys and TRUMPF: will be using the TCT Show as a vehicle to introduce new machines to the UK.  Stratasys will showcase the J750 3D Printer, the worlds' only full-colour, multi-material 3D printer.  Also on display will be the Stratasys' Fortus 3D Printer, already a key part of the manufacturing process for many leading businesses including BMW, Airbus and Opel. TRUMPF will introduce the TruPrint 1000 3D, a compact, easy to install, true plug-and-play metal printing machine, ideal for the production of small metal components by LMF (laser metal fusion).
Olympus will exhibit the Olympus LEXT OLS4100 the industry's first laser scanning compound microscope. Offering accuracy and repeatability, and with non-contact 3D observations this microscope effortlessly delivers measurements of surface features at 10 nanometer resolutions.  Other leading companies bringing new tech to the TCT Show include Added Scientific, launching its new software FLatt Pack; Photocentric who will display the first Liquid Crystal 3D printer, using a 40" screen; Polygonica presenting its latest software v1.4; and Sodick who will be showcasing the brand new OPM250L metal 3D printer and high speed machining centre combination.
"Providing a platform that accelerates 3D technologies has been TCT Show's mission for two decades —even as the technologies and the show itself have evolved, the aims have remained the same. Each year TCT Show acts as a crucible for providers and users of 3D technologies; from the comprehensive show floor where visitors can see all of the latest developments to the definitive conference where state-of-the-art applications are unveiled," said Duncan Wood, COO, Rapid News Publications Ltd.  "This 21st TCT Show is a milestone not only for the organising team but the industry as a whole, never has the future been so bright."
Conference and seminar sessions run across the two-day event and will focus on digital manufacturing, cutting-edge applications and provide a sneak peek at what's new and the must-see technologies.  For full details https://www.tctshow.com/Content/Conference-Programme.
For the full exhibitor list https://www.tctshow.com/elist
Visitors can register for the free-to-attend TCT Show 2016 at www.tctshow.com and can also register via social networks; Twitter, LinkedIn or Facebook. The show offers attendees the opportunity to see new technologies first hand and network with colleagues whilst hearing from industry leaders on the latest developments.