Register now for free tickets to this autumn's BULKEX16, the exhibition and conference taking place at the Harrogate International Centre next month.
The industry event – on Wednesday 5 and Thursday 6 October – is being organised by the Materials Handling Engineers Association (MHEA).
Visitors to BULKEX16 will enjoy exhibition stands and presentations from leading experts –it's a great way to network and communicate with others across the materials handling industry.  Free tickets can be reserved by visiting the website at www.mhea.co.uk/bulkex-16
A prestigious line up of prestigious industry speakers has been announced, which includes representatives from Aggregate Industries, The Bristol Port Company, Graham Construction, Peel Ports and The Wolfson Centre for Bulk Solids Handling Technology, University of Greenwich.
Meanwhile, the winners of the MHEA Excellence Awards will be announced at a gala dinner on first evening of BULKEX16 at The Majestic Hotel, Harrogate.  The MHEA Excellence Awards are designed to celebrate the talent and creativity of MHEA members and the outstanding contribution of member companies.  Book tickets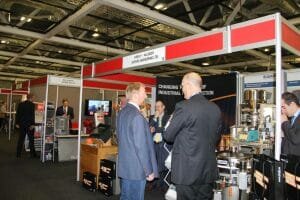 BULKEX16 SPEAKERS:
Stephen Dryden, Commercial Director, Aggregate Industries Overseas Division
A member of LafargeHolcim, Aggregate Industries quarries, manufactures and supplies a wide range of heavy building materials to the construction Industry. Stephen has been with Aggregate Industries for over nine years, and has extensive commercial experience within the industry.  He has held various positions within the company and was previously General Manager for AI's Aggregates and Asphalt businesses in Scotland.  In his current role, he has full EBITDA responsibility for the Overseas and Yeoman Latvia businesses.
Aggregate Industries Overseas business supplies customers with a range of high quality granite materials from washed sand to specialist offshore materials from its two super quarries at Glensanda on the West coast of Scotland and Yeoman Halsvik, north of Bergen in Norway. It has over one billion tonnes of reserves, an annual capacity of up to 12mt and a vessel fleet that can have over 200kt of product on the water at any one time.
Martin Downey, Bulk Terminal and Operational Engineering Director, The Bristol Port Company
Martin is skilled in all aspects of bulk handling and port engineering. He is responsible for handling a variety of bulk cargoes including coal, biomass, stone, animal feed and grain from transhipment, unloading, storage to reloading.
Highly experienced in the commercial logistics and demographics of the UK bulk market, Martin's knowledge ranges across all areas of aggregates extraction, processing, distribution and marketing with further experience of coated materials, the recycling of secondary aggregates and land filling of waste.
In Bristol, Martin is responsible for the purchase, maintenance and development of equipment for one of the world's most technically advanced ports.
Chris Griffin, Business Development Manager, Peel Ports
Chris Griffin is an experienced leader in the logistics sector, having held senior roles in global and international logistics and warehousing organisations.
As the sector expert with Group Business Development responsibility for the one of the UK's largest port operators, Peel Ports Group, Chris heads the strategic development of bulks and energy, encompassing all dry and liquid bulks, in addition to the array of markets in the energy sector.
Michael Mitchell, Pre-Contracts Director for the Civil Engineering Division at GRAHAM Construction
GRAHAM Construction is currently undertaking construction of major biomass handling and storage facilities at Immingham and Liverpool ports.
Mike Bradley, Director, The Wolfson Centre for Bulk Solids Handling Technology, University of Greenwich     
Mike Bradley is Professor in Particle and Bulk Technology, Director of the Wolfson Centre and Head of the Greenwich Manufacturing Group at the University of Greenwich.
He was awarded both his honours degree and PHD from Thames Polytechnic (now the University of Greenwich) and, as the Director, provides technical leadership in all aspects of bulk solids handling.
Register now at www.mhea.co.uk/bulkex-16 for your free ticket.  Enjoy exhibition stands and presentations from leading experts – it's a great way to network with colleagues from across the materials handling industry.  The MHEA events team can help you with travel and accommodation plans.  After the event, attendees will be able to access a range of electronic materials.
FOLLOW US ON TWITTER
Connect with your peers and colleagues and get in-the-moment updates on the things that interest you.  Follow us on twitter at @BULKEX16.
WANT TO BECOME A SPONSOR?
Sponsorship opportunities are available to suit all budgets.  'Headline' gold sponsor, silver and bronze sponsorships are available, with hospitality and paid-for advertising options.
For further information or any enquiries about BULKEX16, contact now on 01787 226995.