ODU AMC® SERIES T – Connectors designed for military and security applications, offering three compatible plug locking options: Push-Pull, Break-Away and Thread-Lock – all fitting to a common bulkhead or receptacle across the equipment.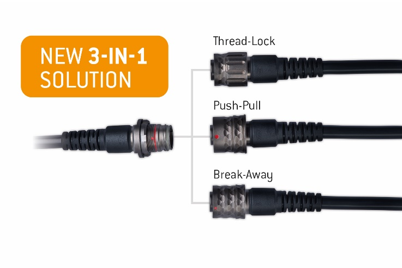 Push-pull plug reliably locks into the device with a ball-lock system.
Break-Away (or Snatch) plug is designed to release the connection with manual pull-force exerted, allowing quick and easy disconnection in critical situations.
Thread-Lock screw locking is particularly suitable for applications that have to deal with extremely strong vibrations.
The ODU AMC® Series T is designed to allow emergency personnel to quickly and easily clean the connectors and replace interfaces, even in the field under extreme conditions and stress, with mechanical and colour-coding preventing mis-mating.
Different transmission variants can be individually configured, even in the smallest installation space. The robust housings are waterproof up to IP6K9K being submersible to 20m for a duration of up to 2 hours.
The ODU AMC® Series T meets the requirements of MIL-STD-38999 and offers additional advantages, being certified to MIL-STD-1472 and MIL-STD-810, withstanding temperature extremes from -65° to +175° C and severe vibration.
Standard 38999 crimps and back-shells are suitable for use with this connector.
Robust under high loads and extreme temperatures, resistant to dust, water and vibration, ODU's connector systems are optimized for demanding applications and transmission reliability even in the most technically challenging environments.
Find out more in our video at https://vimeo.com/831504050