A cordless or battery powered Industrial Vacuum Cleaner has usually meant either a low-powered hand held or back-pack unit or a heavy and clumsy machine with several heavy on-board "leisure" batteries, that take a long time to charge, and may not have enough performance to be wholly satisfactory.
Quirepace have re-invented the battery powered Industrial Vacuum Cleaner by combining the well proven mid-range BVC IV60 with Honda's revolutionary new eGX battery powered engine. The BVC IV60 is usually a 1-2kW electrically powered unit utilising the extremely robust BVC YP series multistage exhauster unit.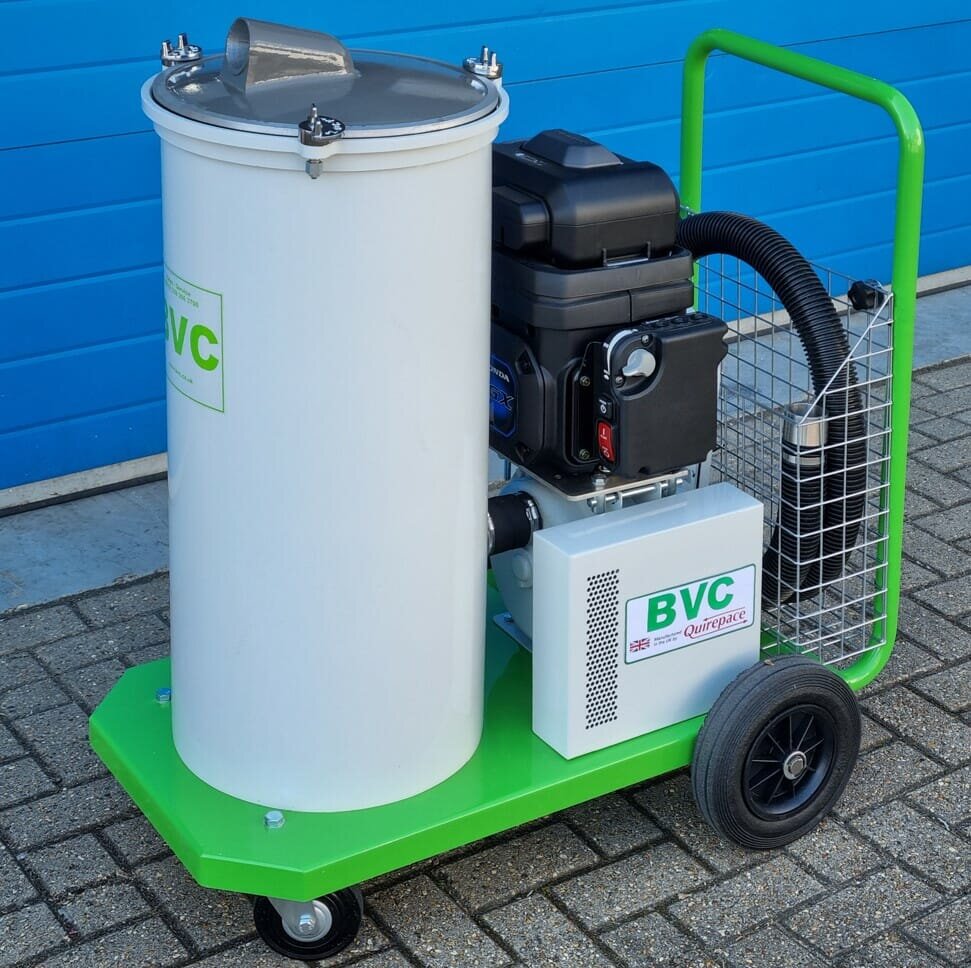 The Honda eGX electric engine is designed to replace petrol engines in the 2.5hp class and provides more than adequate power to run the BVC YP3 exhauster unit at full design speed. This new machine is designated BVC IV62 eGX.
The Honda eGX variable speed drive allows the operator to set the run-speed for the optimum performance for the job in hand. At full power the IV62 eGX has a runtime of 30 minutes, and at slower speed this can be extended to over 2 hours. The eGX fast charger provides 80% charge in 1 hour and 100% charge in 1.5 hours, making continuous running possible with spare batteries.
The BVC IV62, as standard, is provided with the 3-stage filtration dry product tank consisting of a paper sack collection, microfibre main filter and 3rd stage HEPA filter. This configuration is suitable for most dry-product collection applications, and the unit may be configured as both M-Class and H-Class rated units.
Optionally, alternative collection tanks can be specified for applications that require, for example, a wet collection tank, or are better suited to a drop-tank rather than paper-sack collection. As is usual with BVC Industrial Vacuum Cleaners there are a wide range of tool and hose options. IV62 is configured to use either 51mm or 38mm hose and tool sets depending on the application and the nature of the product to be cleaned.
The BVC IV62 eGX makes it possible to clean up the industrial workplace without the hassle and hazard of trailing cables and appropriate power outlets. Instantly available power combined with a large collection volume means that it has never been easier to maintain the cleanliness of the workplace, and of course, enhance the health and safety of the environment for the benefit of all.
The BVC IV62 eGX is also ideally suited for use with high-level cleaning equipment. To coincide with the introduction of the BVC IV62 eGX, Quirepace are simultaneously introducing a range of carbon fibre high level cleaning poles configured for use with BVC Industrial Vacuum Cleaners. The pole sets and tools allow high-level cleaning up to 13m from the ground. Again, the ability to carry out cleaning operations without the risks associated with trailing power cables is a significant benefit to safe operation in the busy industrial environment.
BVC equipment (the original British Vacuum Cleaners) are manufactured by Quirepace in Fareham, Hampshire. UK Manufacture means that spares and support are readily available, and, as usual, BVC UK manufactured machines and components have a 5-year parts warranty. The IV62 eGX has been tested and approved by Honda. The eGX engine and battery, whilst not directly covered by the BVC extended guarantee are directly warrantied by Honda under their global warranty and service-centre scheme. In the UK this provides a 3-year warranty on engines and 2 year warranty on batteries and chargers.
For more information or to book a demonstration of this revolutionary unit contact Quirepace on 023 9260 3700 or [email protected]
Quirepace Ltd