Greentech innovator Katrick Technologies has been shortlisted in the prestigious Energy Innovation award category at the upcoming National Sustainability Awards 2023. The nomination recognises the groundbreaking work carried out by Katrick Technologies in the field of clean energy generation, which includes developing its novel Wind Panel technology The winners will be announced in a ceremony at the Waldorf Hilton hotel, London, on 5 October 2023.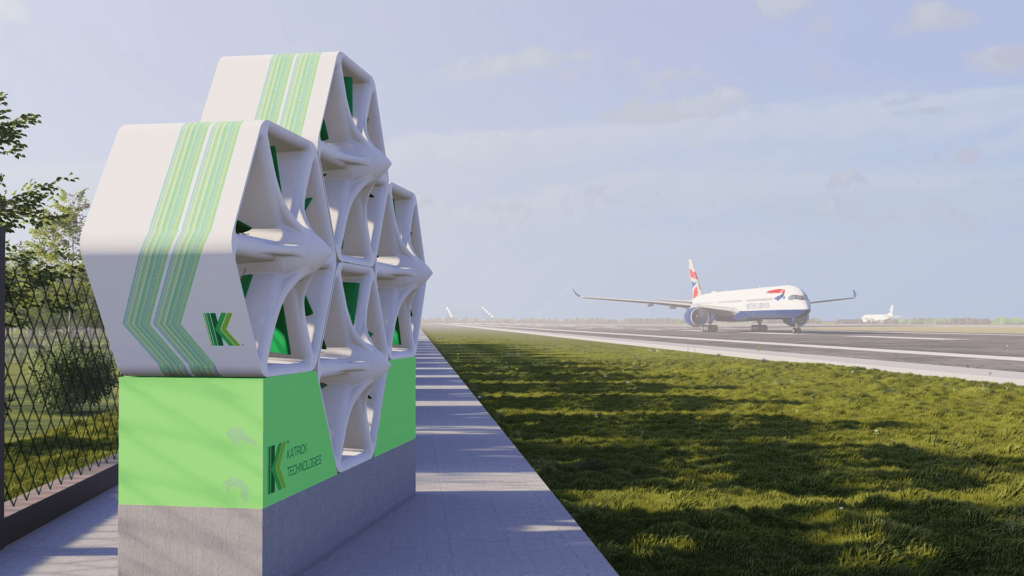 The second annual National Sustainability Awards will celebrate outstanding achievements across various industries. The awards honour organisations and individuals who have made significant contributions to environmental protection, sustainable practices, and innovations in the pursuit of a greener future. The event is also a unique opportunity for networking, knowledge sharing and collaboration; and provides a platform to continue pushing the boundaries of sustainable innovation.
Katrick Technologies has been nominated in the Energy Innovation category for its pioneering Wind Panels, a novel form of wind power generation that has attracted widespread attention within the industry. The panels represent a revolutionary approach to harnessing wind energy, offering numerous advantages over traditional wind turbines.
The Wind Panels feature aerofoil technology that enables efficient wind capture in diverse environments. Unlike traditional wind turbines, which require open and unobstructed spaces, the Wind Panels can be installed in a wider range of areas, such as urban settings like rooftops, and even integrated into existing infrastructure. This versatility opens new possibilities for wind power generation in areas unsuitable for wind turbines.
Katrick Technologies' Wind Panels also boast enhanced scalability and modularity, which allows for easy installation and expansion. This innovative technology not only maximises energy generation but also minimises environmental impact, making it a highly sustainable solution.
"Katrick Technologies' inclusion in the shortlist for the Energy Innovation Award acknowledges our commitment to driving renewable energy solutions, and our dedication to tackling some of the most urgent climate challenges," said Vijay Madlani, CEO of Katrick Technologies.
"The awards are a platform to showcase the most groundbreaking and influential initiatives in the sustainability sector. The event really highlights the importance of innovation and development, and it's great to see our technology to be included among so many significant contenders."
To view the full shortlist, visit the National Sustainability Awards 2023 website. To find out more about Katrick Technologies, visit the website here.