Wyndham Page, the diesel engine protection equipment manufacturer, has launched an innovative range of cost-competitive shutdown valves for diesel engine overspeed protection in areas in which hazardous concentrations of flammable gas or vapours may exist.  The new V series mechanical action valves use a new concept design offering enhanced safety and operational advantages to automatically close the air intake once a pre-set engine speed is exceeded – and challenge traditional overspeed protection valves that have remained unchanged in their basic operation for several decades.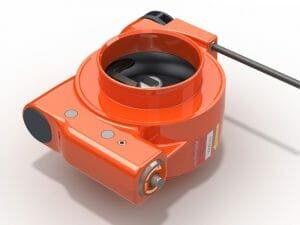 Suitable for both normally aspirated and turbocharged diesel engines up to 275 kW (370 HP), these compact valves improve on the well-established differential pressure intake airflow principle for automatic shutdown.  They also incorporate a manual emergency shutdown feature to meet the requirements specified in EN 1834-1:2000 for diesel engine air intake shutdown valves for operation in hazardous areas.  Furthermore, the valve has been designed to necessitate a manual reset with positive intervention by an operator rather than rely upon potentially outmoded and less safe practice where the valve automatically resets on an engine restart. Through many years' experience in the industry, Wyndham Page consider that these enhanced safety features will be welcomed by both plant operators and safety officers in oil & gas, power generation, marine, mining and similar safety-centric industries.
Wyndham Page has incorporated these improved safety and operational benefits without additional cost. The new 'auto/manual' valve is produced using advanced precision manufacturing and thoroughly tested to the highest quality standards to guarantee maximum reliability whilst maintaining a very competitive selling price – even against current automatic-only shut down valves.
Further advantages include increased diesel engine efficiency as the valve disc seating design and low friction trigger mechanism results in a lower air flow restriction at higher flow rates than in some traditional designs. The new valve is also more compact in design which is particularly effective for tight engine bays where space is restricted.  Once fitted, the V series valve is simply set-up and adjusted in-situ via a trip adjuster screw and does not require removal of the air-intake hose, thereby ensuring straightforward and fast commissioning.
With six models to suit a wide combination of engine ratings and intake pipe diameters, and with a choice of manual shutdown cable lengths, selecting the appropriate V series range is straightforward. Just let Wyndham Page know the engine type and model and engine rating or application details and the correctly sized valve can be supplied world-wide on fast delivery. Full installation and trip setting instructions, including dimensioned drawings and maintenance schedule recommendations, are included in a detailed brochure on the new V series – available in hard copy on request or PDF download from www.wyndhampage.com